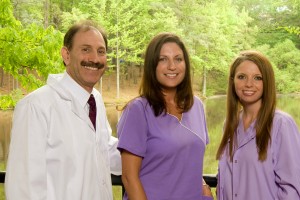 For many years, the only option for filling cavities was a mixture (also known as an amalgam) of different metals. However, thanks to the advancements in dental technology most people are now able to have more natural-looking and metal free fillings. Wayne G. Suway, DDS, MAGD offers his patients tooth colored fillings for cavity repair. These composite and porcelain fillings are both safe and effective while also closely matching the look of the natural teeth.
The enamel of the teeth is different in color from patient to patient, but with tooth colored fillings fabricated on site, Dr. Wayne Suway is able to develop a filling that bonds to the teeth and blends naturally into the mouth. This blending capability is especially important for those who need to have a cavity filled on one of the front teeth as metal fillings would be extremely noticeable. Tooth colored fillings have advantages over metal fillings – they bond to the teeth better to create a stronger seal to prevent further tooth decay, they also strengthen the teeth with a smaller amount of filling.
Wayne G. Suway, DDS, MAGD has provided excellent dental care to patients for over 30 years. Throughout his dental career, he has seen many advancements in dental technology and he knows what is truly best for his patients. Patients continually give testimony to the quality of care that Dr. Suway provides to all of his patients and they remain in his care. Superior patient care is the priority of Wayne G. Suway, DDS, MAGD, and whether you are in need of a dental cleaning, having a cavity filled, or more extensive dental work, Dr. Wayne Suway will provide optimal care to promote optimal oral health.
Posted on behalf of Dr. Wayne G. Suway
1820 The Exchange SE, #600
Atlanta, GA 30339
Phone: (770) 953-1752
FAX: (770) 953-6470
Mon - Thu: 8:30 AM – 5:30 PM
Closed for lunch: 12:30 PM - 1:30 PM