TMD: Symptoms and Solutions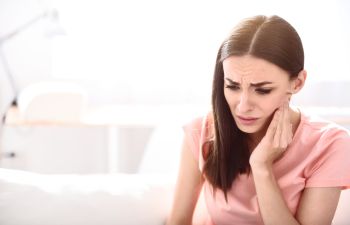 If you find yourself waking up with a tension headache every morning or feel your jaw clicking while you chew, you may need to be evaluated for TMD, or temporomandibular disorder. This is a disorder that involves problems with your TMJ, or the joint that attaches the jawbone to the skull. Your TMJ is what enables you to chew and speak comfortably. If this joint is irritated or inflamed, you may experience the following TMD symptoms:
Jaw soreness
Jaw joint stiffness or "locking"
Frequent tension headaches
Uneven bite
Ear pain
Tailored Treatment Plans for TMD
Where should you go when you are experiencing TMJ problems? Your dentist! TMD can originate from a variety of problems, including those that involve your teeth alignment, bruxism (teeth grinding) and others. Your dentist can recommend the most effective and customized solution. For example, a nighttime oral appliance can prevent teeth clenching and grinding, which can prevent the TMJ from chronic aggravation while you sleep. Other patients may need orthodontic treatment to realign their bite and alleviate TMJ dysfunction.
Problems Beyond Your Jaw
Leaving TMD untreated is more than just living with its disruptive symptoms. A slight discomfort can easily turn into crippling pain if not addressed properly. Losing your ability to eat and speak comfortably is a profound detriment to your quality of life. TMJ problems can also be associated with sleep disturbances, and a lack of quality sleep can impact your overall health. Finally, untreated TMD often leads to early wear and tear on your teeth, resulting in the eventual need for expensive restorative work or tooth replacement.
Call a TMJ Specialist in Marietta
Letting your dentist address your TMJ problems sooner rather than later is an investment worth making. It can prevent more costly treatments in the future as well as improve your comfort and well-being. At the office of Dr. Wayne Suway, we proudly offer the latest, non-invasive treatment methods for TMD. We carefully evaluate your condition and provide a tailored solution to alleviate your symptoms.
Posted on behalf of Dr. Wayne G. Suway
1820 The Exchange SE, #600
Atlanta, GA 30339
Phone: (770) 953-1752
FAX: (770) 953-6470
Mon - Thu: 8:30 AM – 5:30 PM
Closed for lunch: 12:30 PM - 1:30 PM