The Value of Comprehensive Dentistry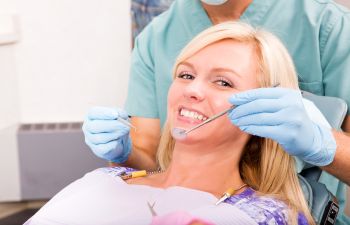 Dentistry is a broad practice that includes several distinct specialties of treatment or care. Your smile will likely need more than just routine cleanings and x-rays to stay in top condition through your lifetime. Therefore, it is important to find a dentist that offers a expansive spectrum of care. Dr. Wayne Suway in Marietta proudly offers comprehensive dental care so that you can address the needs of your smile in one convenient place.
General Dentistry
Your oral health is a top priority. Therefore, you'll find that we offer an expansive range of general dentistry services to help you maintain the health of your teeth and gums. From tooth-colored fillings and painless root canals to TMJ treatments and wisdom teeth removal, we deliver a comfortable experience and superior results.
Cosmetic Dentistry
When it comes to the appearance of your smile, you don't have to settle with what you were born with. Our expertise in cosmetic dentistry allows us to address all types of dental imperfections, including chipped, discolored, gapped, and crooked teeth. Whatever it is that will help you smile more confidently, we can handle it. Dr. Suway offers cosmetic treatments that are produce dramatic improvements in little time, including teeth whitening and porcelain veneers.
Restoration Dentistry
Are missing teeth causing you to miss out in life? Dr. Suway is an experienced dentist who uses a careful blend of artistry and skill when replacing missing teeth. He is qualified to offer dental implants as well as bridges, dentures and partials. Using the latest technology in the industry, you can expect your entire process to be seamless and rewarding.
Sleep Dentist
Did you know that a dentist can help you sleep better? If you suffer from sleep apnea or related snoring, you may qualify for oral appliance therapy to help you get the quality of sleep your body needs to function best. Our sleep apnea treatment is a welcome alternative to bulky CPAP machines for many patients.
Want to learn more about our expansive menu of services at the office of Dr. Wayne Suway? Call us today! We love treating every aspect of your smile at every stage of life.
Posted on behalf of Dr. Wayne G. Suway
1820 The Exchange SE, #600
Atlanta, GA 30339
Phone: (770) 953-1752
FAX: (770) 953-6470
Mon - Thu: 8:30 AM – 5:30 PM
Closed for lunch: 12:30 PM - 1:30 PM