The Importance of Dental Care for the Aging Adult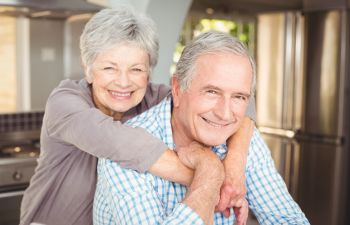 Senior adults can face a wide range of health issues as their body ages. While it is important to focus on the nutritional intake and physical capabilities of the geriatric population, the condition or health of their gums and teeth should never be ignored. In fact, their oral health can directly impact their overall health in several ways, including cardiovascular health, pneumonia, diabetes and other serious concerns. In addition, dental problems such as root decay, dry mouth and even denture-induced stomatitis can be very uncomfortable for an aging adult.
How Age Impacts Oral Health
As we age, the body can break down in many ways, and this includes the mouth. While your teeth are designed to last a lifetime, it is common for older adults to face the consequences of poor oral hygiene and other damaging habits to their oral health. This may result in receding gums and/or tooth loss at a later stage in life.
But age in itself is not the only strike against your oral health as a senior adult. Certain medical conditions, such as arthritis in the hands and fingers, can make brushing and flossing a challenge. In addition, many prescription drugs that seniors must take can cause dry mouth, which contributes to a range of dental issues. Lastly, cognitive disorders or Alzheimer's can make older adults forget to brush altogether. These are all reasons that senior dental care should be a priority, either for the patient themselves or their caregiver.
The best way to combat senior oral health complications is to keep up with your routine dental exams. Dr. Wayne Suway is one of the few Marietta dentists who specializes in senior dental care. Give us a call today – there's no reason why you can't have a confident, healthy and comfortable smile at every stage of life!
Posted on behalf of Dr. Wayne G. Suway
1820 The Exchange SE, #600
Atlanta, GA 30339
Phone: (770) 953-1752
FAX: (770) 953-6470
Mon - Thu: 8:30 AM – 5:30 PM
Closed for lunch: 12:30 PM - 1:30 PM