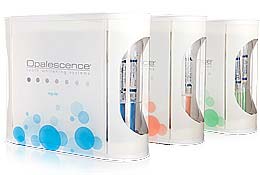 Teeth whitening is one of the easiest ways to transform a dull smile into a beautiful one. In fact, a smile that is radiantly white can often hide imperfections like slightly misaligned teeth. People are so drawn to the beauty of a white smile that they do not typically notice any imperfections.
Teeth whitening is the most common cosmetic dental procedure in the United States. It is a procedure that lightens stains and discolorations of the enamel and dentin layers of the teeth. Professional teeth whitening is safe and effective, and it is the most ideal method of achieving a radiant smile.
While there are a great number of at-home whitening kits, toothpastes, floss, and other items, they will never allow you to achieve the whiteness of a professional treatment. Wayne G. Suway DDS, MAGD is pleased to offer Opalescence® teeth whitening to his patients in the Atlanta area. This highly effective prescription whitening treatment utilizes the power of prescription whitening gel in order to achieve dramatic results in very little time. Opalescence® is offered as an in-office or at-home teeth whitening treatment.
Opalescence® Boost is the advanced teeth whitening treatment that is used in the dental office, and it can brighten your smile in an hour or less. The specially designed, professional strength formula is a gel based solution that activates a superior whitening power to offer a higher-strength whitening solution. Dr. Wayne Suway has helped patients achieve great success in revealing their most beautiful smiles through Opalescence® Boost.
In addition to in-office whitening treatment, at-home whitening treatments are also available. Opalescence® Take Home Whitening Gels are the advanced prescription teeth whitening system that can reveal whiter teeth in just a matter of days. This at-home whitening system is significantly more powerful than over the counter systems because it uses professional grade, prescription only, whitening gel.
If you are interested in achieving a whiter, brighter, more beautiful smile please contact the dental practice of Wayne G. Suway DDS, MAGD. You can achieve a smile that you are proud to show off in no time!
Posted on behalf of Dr. Wayne G. Suway
1820 The Exchange SE, #600
Atlanta, GA 30339
Phone: (770) 953-1752
FAX: (770) 953-6470
Mon - Thu: 8:30 AM – 5:30 PM
Closed for lunch: 12:30 PM - 1:30 PM