Teeth Sensitivity in the Aging Smile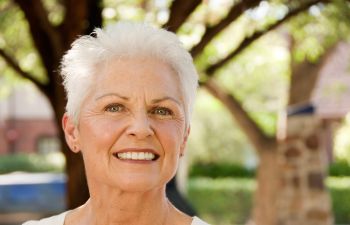 As you get older, do you find yourself avoiding ice cream or hot soups due to tooth pain? Teeth sensitivity is marked by a flash of pain or tingling sensation when your teeth come in contact with extreme temperatures. Patients may wince in pain when drinking coffee, opening their mouth to the cold air or even brushing their teeth. While teeth sensitivity is certainly a common oral health condition, it is not something you have to live with.
There are many aspects of our bodies that wear down over time, and your teeth are no different. Many adults find that their teeth become sensitive as they age. This is part of the natural aging process, as the cumulative effects of certain oral habits and everyday dental function over time can wear down the enamel of your teeth.
Enamel Erosion
Enamel erosion refers to the gradual thinning or weakening of the outer layer of your teeth. While physical trauma or injury can damage your tooth enamel, it is also common to experience enamel erosion from certain habits, such as the following:
Brushing too hard
Frequently eating and drinking acidic foods
Tooth grinding
Acid reflux
Smoking
Gum Recession
The roots of your teeth do not have the same enamel layer that the rest of your tooth have for protection. Instead, they are covered with gum tissues. Therefore, when the gums recede (due to gum disease or other culprits), the teeth respond with sensitivity and pain. Again, older adults are at greater risk for gum recession compared to children and young adults.
The probability of gum recession and enamel erosion in aging adults is backed by research that says adults between ages 20 and 50 are more likely to experience teeth sensitivity. In fact, most cases develop between the ages of 30 and 40.
Finding a Solution for Sensitive Teeth
Don't let teeth sensitivity stand in the way of aging gracefully and comfortably. At the office of Dr. Wayne Suway, we can help! We provide comprehensive care in senior dentistry with the ability to treat gum disease, enamel damage and other causes of sensitive teeth. It is important that you let a dentist determine whether teeth sensitivity is an underlying oral health issue that needs to be treated right away. However, your solution may be as simple as using a desensitizing toothpaste or buying a soft-bristled toothbrush.
Posted on behalf of Dr. Wayne G. Suway
1820 The Exchange SE, #600
Atlanta, GA 30339
Phone: (770) 953-1752
FAX: (770) 953-6470
Mon - Thu: 8:30 AM – 5:30 PM
Closed for lunch: 12:30 PM - 1:30 PM