Teeth Grinding and Dental Implants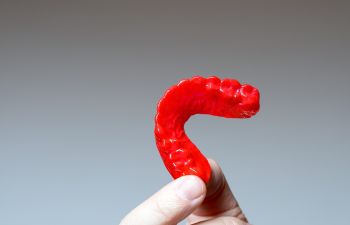 Dental implants are the most effective and preferred means of restoring your smile after missing teeth. They are the only restorative option that not only looks and feels like natural teeth but also addresses issues such as bone loss that occurs beneath the gum line after missing teeth. Dental implants fuse with the jawbone and offer the most durable and stable anchor for a crown, bridge or denture. However, the fusion of the implant with the jawbone is a critical part of an implant's success, and there are certain factors that can sabotage this process either before or after implant surgery. Bruxism is one of these risk factors.
Dental implants carry an exemplary success rate. Unfortunately, bruxism (or teeth grinding) is a condition that can threaten the success of an implant or multiple implants. If you grind your teeth on a regular basis before getting implants, you may not have enough bone structure to support an implant. In other words, the implant may not be fully surrounded by enough bone to fuse and form a stable anchor for your prosthetic teeth. In such cases, you may need bone grafting to build up your bone and qualify you for implant dentistry.
If you do have enough bone to support a dental implant or if you have previously received a bone graft, you must also consider how you will prevent bone loss after you get your implants. The process of osseointegration (fusion of implant to bone) begins immediately after your implant surgery and continues for the next several months. During this time, it is critical to avoid excess pressure on the implant to foster complete healing at the site of your oral surgery. A teeth grinding habit can be a significant threat to successful osseointegration.
Even if your implant successfully fuses to your jawbone after your oral surgery, the implant can still lose stability over time if the bone progressively loses density and height. Therefore, bruxism is never welcome when considering dental implants and measures must be taken to prevent teeth grinding if you plan to get or keep your dental implants.
The Issues With Bruxism
Bruxism, which is most commonly performed at night during sleep, is one of the most harmful oral habits. Unfortunately, not every patient can control their nighttime teeth grinding. Still, it can produce significant setbacks within your dental health, even for someone who does not have dental implants. The remarkable pressure and force that bruxism causes on your teeth and jaw can lead to TMJ pain, headaches, receding gums and worn down teeth. For those that have dental implants, the pressure can cause bone loss as well as implant instability or even dental implant failure.
Treating Bruxism and Protecting Your Implants
Will your nighttime teeth grinding habit hold you back from getting dental implants? Not necessarily. There are ways to treat bruxism depending on its cause. In some patients, misalignment issues may exist and need to be corrected so that your teeth grinding can stop. In most patients, however, bruxism is a subconscious response to stress. If relaxation techniques cannot prevent teeth grinding, a custom mouthguard should be used. Mouthguards are perfectly safe and effective for patients who have dental implants. Most importantly, a simple nightguard can be enough to keep your teeth grinding habit under control and help you avoid dental implant failure. Call Dr. Wayne Suway today if you want to learn more about teeth grinding treatment with dental implants.
Posted on behalf of Dr. Wayne G. Suway
1820 The Exchange SE, #600
Atlanta, GA 30339
Phone: (770) 953-1752
FAX: (770) 953-6470
Mon - Thu: 8:30 AM – 5:30 PM
Closed for lunch: 12:30 PM - 1:30 PM