Implants: The Only Solution for Premature Facial Aging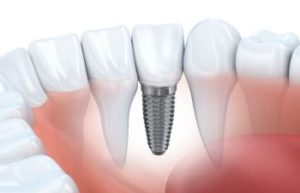 Do you ever wonder why people with missing teeth look older than they really are – even when their mouth is closed? Missing teeth cause a gradual progression of bone loss in the jaw when dental implants are not surgically placed. Our jaw has a primary role in dental function or chewing, but it also helps hold our facial skin and structures in place. If the bone atrophies or shrinks due to missing teeth, the lower face begins to collapse or sink in. This is known as premature facial aging, and it continues happen with dental bridges and dentures that are not supported by dental implants.
Why Does the Jaw Bone Shrink?
All of the bones in our body need proper stimulation in order to maintain their form and density. When it comes to the jawbone, the tooth root is responsible for providing that stimulation every time we bite down or chew. These small forces of stimulation throughout the day are enough to trigger the natural regeneration process within the jawbone.
When a tooth is lost, this regenerative process is also lost. Therefore, in just one year after tooth loss, there is a 25% decrease in bone width. In the next 3 years, there could potentially be 4 millimeters decrease in height. For patients that have multiple missing teeth, they may notice numerous facial changes in response to their shrinking jaw bone, including:
Decrease in distance from nose to chin
Partial collapse in lower third of face
Sagging lips
Older and/or unhappy appearance
The Good News – Dental Implants
Just because you lose a natural tooth, doesn't mean you have to suffer these consequences of bone loss. By choosing dental implants, you'll gain a replacement tooth as well as a replacement tooth root. The implant is surgically inserted into your jawbone. It will anchor your prosthetic tooth as well as stimulate your jawbone like a natural tooth. Therefore, you can enjoy a restored smile without the doom or risk of premature facial aging.
It is important to know, however, that you'll need a certain amount of jawbone structure before you get an implant. Don't wait until your bone has atrophied to seek implants dentistry!
Call Dr. Wayne Suway today to learn more about the overwhelming benefits of dental implants!
Posted on behalf of Dr. Wayne G. Suway
1820 The Exchange SE, #600
Atlanta, GA 30339
Phone: (770) 953-1752
FAX: (770) 953-6470
Mon - Thu: 8:30 AM – 5:30 PM
Closed for lunch: 12:30 PM - 1:30 PM