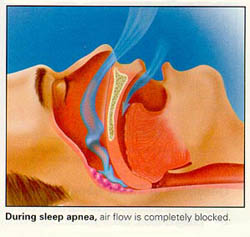 Do you wake repeatedly during the night? Do you feel tired during the day despite getting a full seven to eight hours of sleep? Do you snore? If you answered, "yes," to any of these questions, it is time to call your dentist. Sleep apnea is a condition in which a person's breathing is paused as a result of the blockage of the pharyngeal airway. A pause in breathing means that the body, especially major organs like the brain and heart, are not receiving adequate and consistent oxygen repeatedly. Wayne G. Suway, DDS, MAGD understands that sleep apnea poses health risks and lessens a person's quality of life. He offers specific treatment for his patients that suffer from sleep apnea so that they can enjoy a full night's sleep and eliminate future health problems.
The word "apnea" is defined as the temporary cessation of breathing. While not everyone who snores has sleep apnea, snoring is a common indicator for many. Other indicators include:
Restless sleep
Interrupted sleep
Waking suddenly
Waking with a gasp for air, or waking with a cough
Sleepiness throughout the day despite receiving a full night's sleep
Awakening with a dry mouth or sore throat
Moring headache
Insomnia
Attention problems
If you have any of these symptoms, it is time to have your sleep evaluated. Dr. Wayne Suway offers custom oral appliances designed specifically for patients with sleep apnea. These appliances are similar to a mouth guard, but they are designed to keep the airway open. Worn only at night, they can eliminate snoring and sleep apnea, allowing for a full, successful night's rest.
If you think that you may be suffering from sleep apnea, contact the dental practice of Wayne G. Suway, DDS, MAGD. With over 30 years of dental experience, he is the trusted name in Marietta, Vinings, and surrounding areas as the reputable source for comprehensive dental care. Dr. Suway can relieve your sleep apnea symptoms and help you receive a better night's sleep.
Posted on behalf of Dr. Wayne G. Suway
1820 The Exchange SE, #600
Atlanta, GA 30339
Phone: (770) 953-1752
FAX: (770) 953-6470
Mon - Thu: 8:30 AM – 5:30 PM
Closed for lunch: 12:30 PM - 1:30 PM