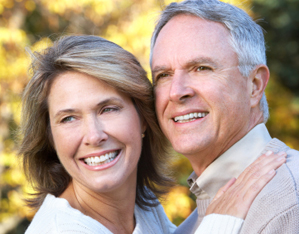 As people age, so do their dental care needs. Dental care for seniors involves unique considerations that have changed since patients were children and even as younger adults. The aging process affects the entire body, making it more likely for seniors to suffer from a host of oral health issues. Wayne G. Suway, DDS, MAGD is the trusted name in Vinings as the source for gentle, comprehensive dental care for senior patients. He has over 30 years of experience, and he has treated complex problems for mature and senior citizen dental patients. Dr. Wayne Suway offers a variety of effective solutions for patients as they grow older that are specific to their stage of life.
There are a variety of dental issues that affect seniors at a much higher rate than younger patients. Tooth sensitivity, discoloration, gum recession, root deterioration, and tooth loss are all issues that many senior patients suffer from. While poor oral hygiene can be a cause, common medications for diabetes, cholesterol, heart related illnesses, and other conditions are often the root of the problem for oral issues. Dr. Suway believes that dental problems do not have to be a natural or accepted part of growing older. He offers his expertise to his patients so that he can help prevent oral health issues with proper care and treatment. Dr. Suway is well-qualified to treat even the most complex dental cases to both treat current issues and prevent new issues from occurring.
If you are a senior adult who is looking for a dentist to trust with the health of your mouth, contact the dental practice of Wayne G. Suway, DDS, MAGD. Whether you need extensive dental work or you wish to simply maintain the best possible health for your aging teeth and gums, Dr. Suway will exceed your expectations with his gentle, comprehensive dental care.
Posted on behalf of Dr. Wayne G. Suway
1820 The Exchange SE, #600
Atlanta, GA 30339
Phone: (770) 953-1752
FAX: (770) 953-6470
Mon - Thu: 8:30 AM – 5:30 PM
Closed for lunch: 12:30 PM - 1:30 PM