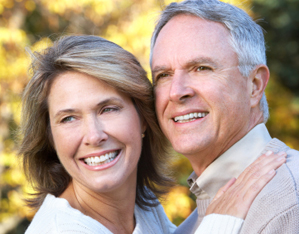 Seniors are at risk for a number of oral health problems. As we age, everything in our bodies age, too – including our teeth and gums. Wayne G. Suway, DDS, MAGD is a dedicated dentist who provides exceptional care to senior patients and who specializes in the specific needs of the aging mouth. Years of wear and tear can affect the entire oral health, and many additional dental treatments are necessary. Dr. Wayne Suway provides experience and a gentle demeanor in providing his patients with comprehensive and advanced care.
Dr. Suway has over thirty years of experience with comprehensive senior dental care, including restorative treatments and cosmetic dentistry options. Many seniors experience darkened teeth as they age. This is caused mostly by the changes in dentin, the bone-like tissue that underlies the tooth enamel. For non-smokers, a lifetime of tooth staining foods and beverages can cause the teeth to darken. Dry mouth is often a common complaint among seniors. Dry mouth is caused by a decreased amount of saliva; many common medications (cholesterol, diabetes, heart medications, etc.) can cause dry mouth as a side effect. A mouth that is constantly dry does not get rid of the necessary amount of bacteria that forms which can cause increased plaque and tooth decay. Gum disease and tooth loss are also common among senior patients as flossing may become more difficult with aging joints and arthritis.
However, just because a patient is growing older does not mean that s/he has to accept a decline in oral health. Dr. Wayne Suway is dedicated to proving his senior patients with the care that they need to promote a healthy mouth. He is committed to offering exception care for patients of every age with a skilled approach and a gentle touch.
Posted on behalf of Dr. Wayne G. Suway
1820 The Exchange SE, #600
Atlanta, GA 30339
Phone: (770) 953-1752
FAX: (770) 953-6470
Mon - Thu: 8:30 AM – 5:30 PM
Closed for lunch: 12:30 PM - 1:30 PM