Root Canals: Misunderstood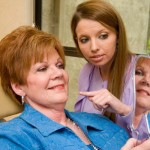 Tooth enamel is the hardest substance in the human body, but it is not invincible. Trauma, decay, and injury can all cause teeth to become damaged or infected. While permanent teeth are meant to last a lifetime, there are many times in life when this will not occur and the teeth will need intervention. Teeth that are damaged or infected from the inside will often need to undergo a root canal in order to restore the health of the tooth so that it can remain inside the mouth. Many people have a misconception of what a root canal is, and we hope you will keep reading to clear this misconception up.
First and foremost – a root canal is not painful. Please read that again: a root canal is not painful. Damaged and infected teeth are painful, and a root canal procedure is done to relieve the pain and save the tooth.
Many people associate pain with root canals simply because it is the damaged or infected tooth that was so painful. It is important to understand that the pain brought people into the dentist in the first place! Each tooth is a living feature with its own lifeline. The inside of every tooth has a root system, nerve fibers, and direct blood supply. When infection or damage reaches the inside of a tooth, the sensitive nerves and roots will undergo excruciating pain.
Root canal procedures involve cleaning out the center of the tooth (known as the "pulp") in order to remove all damage and infection. This is always done under local anesthesia so that no pain or discomfort will be felt during the procedure. Once the pulp of the tooth is removed, an antibiotic will be given inside the tooth to kill any lingering bacteria and promote healing. The tooth will then be filled and sealed to protect against further damage. When a root canal is performed in a timely manner, the tooth can be saved so that the smile can remain complete.
Understanding that root canals are not painful is vital so that no one puts off having this necessary procedure. Root canals are specifically done to remove infection, restore the tooth, and to alleviate pain from your mouth.
Dr. Wayne Suway in Vinings, Georgia, wants to help you achieve and maintain a beautiful, healthy smile for life. Please do not let misguided fear keep you from receiving the dental treatment that you need. Dr. Suway and his entire staff are here to help you restore your smile and your comfort.
Posted on behalf of Dr. Wayne G. Suway
1820 The Exchange SE, #600
Atlanta, GA 30339
Phone: (770) 953-1752
FAX: (770) 953-6470
Mon - Thu: 8:30 AM – 5:30 PM
Closed for lunch: 12:30 PM - 1:30 PM