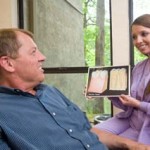 First, let's start with the most important issue regarding root canals: Root canals are not painful – infected teeth are painful! A root canal is done in order to repair and save a tooth that has been severely damaged by injury or decay. Every tooth contains an innermost layer, called the pulp chamber, that is composed of blood vessels and nerve fibers. When the pulp chamber of a tooth becomes infected or damaged, the tooth will feel intense pain and extreme sensitivity. The pain that is associated with a root canal is actually the pain from the infected or damaged tooth, and a root canal is done to relieve this pain and restore the health of the tooth.
It is incredibly important that patients not put off having a necessary root canal because of the aggressive damage that can occur. Any time there is an infection in one tooth of the mouth, the entire mouth is vulnerable to the same fate. Any oral infection can quickly and easily spread throughout the mouth via the blood supply and living tissues that connect all the teeth together. Having a root canal removes the infection from a tooth in order to restore the health of a tooth, and will in turn restore the health of the entire mouth.
Dr. Wayne G. Suway, DDS, MAGD, has over 30 years of experience as a respected and esteemed dentist. He is committed to utilizing the latest dentistry techniques to restore form and function to teeth that have been affected by disease, decay, infection, or injury. Dr. Suway can conduct a root canal procedure quickly and comfortably so that your pain is alleviated, and your smile is restored.
If you are experiencing any tooth pain or throbbing sensation, extreme tooth sensitivity, swelling of the gums surrounding a tooth, or a broken or damaged tooth, please do not put off making the call to Dr. Suway's dental practice. He will help you determine the cause of your issue and decide if a root canal is the most effective option for your needs. Dr. Wayne Suway is committed to providing comfortable and compassionate care.
Posted on behalf of Dr. Wayne G. Suway
1820 The Exchange SE, #600
Atlanta, GA 30339
Phone: (770) 953-1752
FAX: (770) 953-6470
Mon - Thu: 8:30 AM – 5:30 PM
Closed for lunch: 12:30 PM - 1:30 PM