Rinsing the Mouth after Eating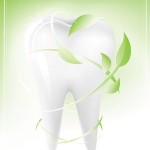 There are a wide variety of mouthwashes available on the market today. While some claim to freshen your breath, prevent tartar and plaque buildup, help see which teeth are dirty and need extra attention, and even promote prevention from gum disease – many people still wonder if rinsing with a mouthwash is important. Proper oral hygiene is made up of different aspects, none exclusive from the other when it comes to oral health. For instance, just because people brush their teeth twice a day does not mean that they do not need to floss. The same is true for rinsing.
Rinsing the mouth with water or mouthwash after eating meals will help to fight against gum disease, prevent cavities, and freshen the breath. Following a meal, the mouth fills with bacteria. While this sounds like something out of a horror movie, it is the way the mouth was designed. These bacteria attack the sugars and starches from the foods and break them down. While this is a natural process, the extreme number of bacteria in the mouth should not be allowed to hang out for a long period of time. Rinsing the mouth will wash away the excessive amounts of bacteria to keep the teeth protected until they can be brushed properly. However, even after rinsing and brushing, some particles of food will still be left between the teeth. This is where flossing comes in! Floss removes the food from between the teeth so that plaque will not develop and lead to gum disease. So, while rinsing is an important aspect of oral hygiene (with water or mouthwash), it alone is not enough.
Wayne G. Suway, DDS, MAGD has been practicing dentistry for over 30 years, and he offers his dental expertise to all of his patients. If your mouth is more susceptible to cavities and/or plaque buildup he can help you determine which rinse is the most beneficial to your oral health. Dr. Wayne Suway takes great care with each of his patients, and he would be proud to serve as your family's dentist. Call today to schedule an appointment.
Posted on behalf of Dr. Wayne G. Suway
1820 The Exchange SE, #600
Atlanta, GA 30339
Phone: (770) 953-1752
FAX: (770) 953-6470
Mon - Thu: 8:30 AM – 5:30 PM
Closed for lunch: 12:30 PM - 1:30 PM