Proper Denture Care: Dos and Don'ts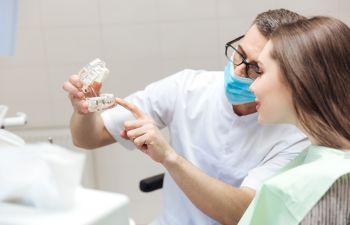 Dentures can give patients a new lease on a beautiful and functional smile. However, just like natural teeth, your removable dentures demand proper care. There are certain "dos and don'ts" to follow in order to extend the life of your dentures and retain that comfortable and confident smile. Most importantly, taking care of your dentures can protect your oral health, which in turn supports better overall health!
When denture care is neglected, it can lead to a wide variety of problems including ill-fitting dentures and oral health concerns such as chronic bad breath, gum disease and more. By adhering to a simple denture maintenance routine, you can avoid these disruptions and extend your denture investment.
Here are some common dos and don'ts of denture care that can either prolong the life of your denture or cause difficulties:
Dos
DO rinse dentures after every meal.
DO brush your dentures daily. Brush gently, just like you would your real teeth.
DO soak your dentures every night in water or a denture solution. Dentures need hydration!
DO visit your dentist regularly to monitor your denture fit and diagnose problems early.
DO handle them with care – your dentures are delicate.
Don'ts
DON'T use harsh or abrasive paste or bristles.
DON'T try to adjust or fix your own dentures.
DON'T sleep in your dentures.
DON'T let them dry out.
For more specific information about caring for your dentures, please contact Dr. Wayne Suway. We offer denture care tips, denture repairs and relines as well as ways to permanently stabilize your dentures with dental implants.
Posted on behalf of Dr. Wayne G. Suway
1820 The Exchange SE, #600
Atlanta, GA 30339
Phone: (770) 953-1752
FAX: (770) 953-6470
Mon - Thu: 8:30 AM – 5:30 PM
Closed for lunch: 12:30 PM - 1:30 PM