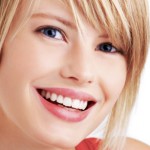 These days it seems that there are endless ways to enhance people's appearance and/or make them appear younger. However, what many people fail to take into consideration is the appearance of their smiles. A smile has a huge impact on the overall appearance of the face. A smile that is dull, damaged, or misaligned can add years to the face, while a bright white, straight smile can takes years off the face. A radiant white smile is almost synonymous with youthfulness; therefore, people should not neglect their smiles when wanting to transform their appearance. Wayne G. Suway, DDS, MAGD is the trusted source in Vinings to help patients restore confidence in the look of their smiles with porcelain veneers.
Porcelain veneers are used to transform less than stellar smiles into smiles that are worthy of being shown off. Porcelain veneers are strong, custom made shells that cover the front surfaces of the teeth in order to immediately modify their appearance. With porcelain veneers the natural teeth are prepared by removing a small amount of the tooth enamel so that there is room in the mouth for the veneers. Once the customized veneers are fabricated, they will e applied and permanently cemented to the teeth using a special hardening light. Because porcelain veneers can be color matched, it is easy to restore just those teeth that need restoration. For instance, perhaps two front teeth were chipped or broken biting into something hard. Porcelain veneers can be made to correct just those teeth. Of course, some people wish to transform or correct their entire smiles, and veneers can also be used for that purpose.
If you are interested in porcelain veneers or would like to set up a consultation to determine whether or not you are a good candidate for them, please contact the dental practice of Dr. Wayne Suway. With over 30 years of experience in family, comprehensive, and cosmetic dentistry, Wayne G. Suway, DDA, MAGD is the reputable name to know and trust in Vinings for your impressive smile.
Posted on behalf of Dr. Wayne G. Suway
1820 The Exchange SE, #600
Atlanta, GA 30339
Phone: (770) 953-1752
FAX: (770) 953-6470
Mon - Thu: 8:30 AM – 5:30 PM
Closed for lunch: 12:30 PM - 1:30 PM