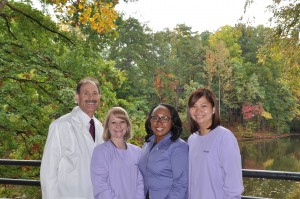 The dental practice of Dr. Wayne G. Suway, DDS, MAGD is not just another dental practice in the Atlanta area. Patients will tell you that Dr. Suway and his team are dedicated to providing the highest quality dental care with an emphasis on patient comfort. As a dentist who has been practicing for over 30 years, Dr. Wayne Suway has been committed to faithfully serving his patients by offering a full range of general, advanced, cosmetic, and restorative dental services in Marietta, Vinings, and the surrounding communities North of Atlanta. Oral cancer screening is just one of the ways that Dr. Suway goes one step further to ensure that the health of his patients is put as his top priority.
Oral cancer screening is a simple tool that is used to detect early signs of cancerous or precancerous development in a person's mouth. By examining the tissues of the tongue, roof palate, cheeks, gum, floor of the mouth, and throat early signs of oral cancer can be spotted and evaluated right away. As with all types of cancer, the earlier oral cancer is found the earlier effective treatment can begin. While oral cancer has been found in those without risk factors, the majority of cases are found in people who use tobacco in some form and/or drink alcohol heavily. People who drink alcohol and smoke are six times as likely to get oral cancer as people who do not drink. The combination of tobacco and alcohol use is extremely dangerous, and these risk factors should be eliminated to prevent death from oral cancer.
Dr. Wayne G. Suway is committed to providing the most comprehensive dental services to all of his patients. With his years of experience he has seen dental fads come and go, yet he remains sure in what is the most important in providing top notch dental care. If you are looking for a dental practice that you can trust to provide complete dental care, the dental practice of Dr. Wayne G. Suway is an ideal choice. His entire team of professionals is caring and would welcome the opportunity to serve you and the members of your family. Please call today to schedule an appointment.
Posted on behalf of Dr. Wayne G. Suway
1820 The Exchange SE, #600
Atlanta, GA 30339
Phone: (770) 953-1752
FAX: (770) 953-6470
Mon - Thu: 8:30 AM – 5:30 PM
Closed for lunch: 12:30 PM - 1:30 PM