Opalescence Teeth Whitening Treatment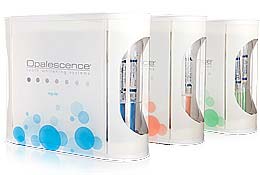 Whitening the teeth is one of the easiest, yet most effective, enhancements that a person can give his or her smile. Teeth whitening is considered a cosmetic dental procedure, yet it is minimally invasive. Wayne G. Suway, DDS, MAGD is pleased to offer Opalescence® to patients in the Atlanta area. While many people have tried whitening their teeth at home, the proven power of the prescription whitening gel used in Opalescence® can help patients achieve the dramatic results that they desire.
Opalescence® is a safe and effective teeth whitening treatment that has been approved by the American Dental Association. Only available as a prescription from a dentist's office, Opalescence® offers what no other teeth whitener can offer: brilliant results in a variety of options. Wayne G. Suway, DDS, MAGD offers in-office teeth whitening treatments that will brighten the teeth in an hour or less with Opalescence® Boost. It is an easy procedure that uses a specially designed formula that activates the whitening power and offers a strengthening whitening treatment. This procedure can be done during a lunch break to add to its convenience. Opalescence® can also be used as at at-home whitening treatment. Dr. Suway can create customized bleaching trays by making an impression of his patients' teeth. These customized trays allow for the prescription strength gel to spread to all of your teeth so that each patient receives optimal results. Store bought trays are not customized; therefore, most people do not achieve balanced results.
Teeth whitening treatments are one of the best things you can do to enhance your smile. If you would like to make an appointment with Wayne G. Suway, DDS, MAGD to have your teeth whitened with Opalescence® or to have customized trays made to use with the at-home whitening treatment, call today to schedule an appointment. Your brightest smile is right around the corner.
Posted on behalf of Dr. Wayne G. Suway
1820 The Exchange SE, #600
Atlanta, GA 30339
Phone: (770) 953-1752
FAX: (770) 953-6470
Mon - Thu: 8:30 AM – 5:30 PM
Closed for lunch: 12:30 PM - 1:30 PM