Marietta Dentist Provides Life-Changing Treatment for Sleep Apnea and Snoring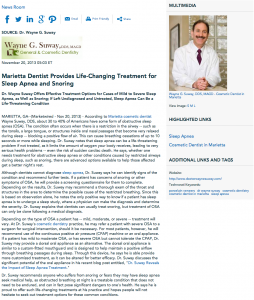 Dr. Wayne Suway offers effective treatment options for cases of mild to severe sleep apnea, as well as snoring. If left undiagnosed and untreated, sleep apnea can be a life-threatening condition.
Marietta, GA – According to Marietta cosmetic dentist Wayne Suway, DDS, about 30 to 40% of Americans have some form of obstructive sleep apnea (OSA). The condition often occurs when there is a restriction in the airway – such as the tonsils, a large tongue, or structures inside oral nasal passages that become very relaxed during sleep – blocking a positive flow of air. This can cause breathing cessations of up to 10 seconds or more while sleeping. Dr. Suway notes that sleep apnea can be a life-threatening problem if not treated, as it limits the amount of oxygen your body receives, leading to very serious health problems – even the risk of sudden cardiac death. He says, whether one needs treatment for obstructive sleep apnea or other conditions caused by restricted airways during sleep, such as snoring, there are advanced options available to help those affected get a better night's rest.
Although dentists cannot diagnose sleep apnea, Dr. Suway says he can identify signs of the condition and recommend further tests. If a patient has concerns of snoring or other symptoms of OSA, he will provide a screening questionnaire for them to complete. Depending on the results, Dr. Suway may recommend a thorough exam of the throat and structures in the area to determine the possible cause of the restricted breathing. Since this is based on observation alone, he notes the only positive way to know if a patient has sleep apnea is to undergo a sleep study, where a physician can make the diagnosis and determine the severity. Dr. Suway explains that dentists can usually treat snoring, but treatment of OSA can only be done following a medical diagnosis.
Depending on the type of OSA a patient has–mild, moderate, or severe–treatment will vary. At Dr. Suway's cosmetic dentistry practice, he may refer a patient with severe OSA to a surgeon for surgical intervention, should it be necessary. For most patients, however, he will recommend use of the continuous positive air pressure (CPAP) machine or an oral appliance. If a patient has mild to moderate OSA, or has severe OSA but cannot tolerate the CPAP, Dr. Suway may provide a dorsal oral appliance as an alternative. The dorsal oral appliance is similar to a custom-fitted mouthguard and is designed to help maintain a positive airflow through breathing passages during sleep. Through this device, he says he is able provide more customized treatment, as it can be altered for better efficacy. Dr. Suway discusses the significant potential of the oral appliance in his recent blog post entitled, "Dr. Suway Reveals the Impact of Sleep Apnea Treatment."
Dr. Suway recommends anyone who suffers from snoring or fears they may have sleep apnea seek medical help, as obstructed breathing at night is a treatable condition that does not need to be endured, and can in fact pose significant dangers to one's health. He says he is proud to offer such life-changing treatments at his practice and hopes people will not hesitate to seek out treatment options for these common conditions.
About Wayne G. Suway, DDS, MAGD
Dr. Wayne Suway has been a practicing dentist in the Atlanta area for over 30 years. He was awarded Mastership status by the Academy of General Dentistry for his continued education and excellence in the dental field. Dr. Suway provides a range of dentistry options at his Marietta practice, which includes such treatments as teeth whitening, porcelain veneers and dental implants. He is available for interview upon request.
The practice can be reached online at www.doctorwaynesuway.com and facebook.com/waynegsuwaydds
Posted on behalf of Dr. Wayne G. Suway
1820 The Exchange SE, #600
Atlanta, GA 30339
Phone: (770) 953-1752
FAX: (770) 953-6470
Mon - Thu: 8:30 AM – 5:30 PM
Closed for lunch: 12:30 PM - 1:30 PM