Marietta Dentist Offers Dental Implants As A More Natural Alternative To Bridge Restorations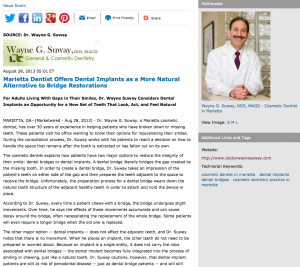 For adults living with gaps in their smiles, Dr. Wayne Suway considers dental implants an opportunity for a new set of teeth that look, act, and feel natural.
Marietta, GA – Dr. Wayne G. Suway, a Marietta cosmetic dentist, has over 30 years of experience in helping patients who have broken down or missing teeth. These patients visit his office wanting to know their options for rejuvenating their smiles. During the consultation process, Dr. Suway works with his patients to reach a decision on how to handle the space that remains after the tooth is extracted or has fallen out on its own.
The cosmetic dentist explains how patients have two major options to restore the integrity of their smile: dental bridges or dental implants. A dental bridge literally bridges the gap created by the missing tooth. In order to create a dental bridge, Dr. Suway takes an impression of the patient's teeth on either side of the gap and then prepares the teeth adjacent to the space to receive the bridge. Unfortunately, the preparation process for a dental bridge wears down the natural tooth structure of the adjacent healthy teeth in order to attach and hold the device in place.
According to Dr. Suway, every time a patient chews with a bridge, the bridge undergoes slight movements. Over time, he says the effects of those movements accumulate and can cause decay around the bridge, often necessitating the replacement of the whole bridge. Some patients will even require a longer bridge when the old one is replaced.
The other major option—dental implants—does not affect the adjacent teeth, and Dr. Suway notes that there is no movement. When he places an implant, the other teeth do not need to be prepared or worried about. Because an implant is a single entity, it does not carry the risks associated with dental bridges—the dental implant becomes fully integrated into the process of smiling or chewing, just like a natural tooth. Dr. Suway cautions, however, that dental implant patients are still at risk of periodontal disease—just as dental bridge patients—and will still need to brush, floss, and plan for ordinary oral exam appointments to maintain their teeth and gum health.
At his Marietta cosmetic dentistry practice, Dr. Suway performs all of the phases of a patient's dental implant from beginning to end—from placing the implants themselves to providing the finishing touch with a porcelain dental crown. He believes that his patients benefit from having a single dentist performing all of those phases. With one person controlling the entire process, Dr. Suway says he does not have to depend on another doctor's results for his own restoration efforts, and he can keep each patient's end goal in mind throughout the entire procedure. "My patients love the fact that they only have to visit one dentist to have the procedure performed. They like the convenience of going to one person they already trust and know."
Dr. Suway considers dental implants to be the most natural replacement available for a patient's missing tooth. "You floss it and brush it just like you normally would," says Dr. Suway. "Patients have their baby teeth, then their adult teeth, and now they have the option for a third set of teeth that were not available years ago."
About Wayne G. Suway, DDS, MAGD
Dr. Wayne Suway is a graduate of Bucknell University and earned his Doctor of Dental Surgery from Emory University School of Dentistry. In addition, Dr. Suway completed a one-year program in implant dentistry at the Medical College of Georgia. Recognized as a Master of the Academy of General Dentistry–a prestigious award in the dental field, he is also a Diplomate of the International Congress of Oral Implantology and an Associate Fellow of the American Academy of Implant Dentistry. Dr. Suway is available for interview upon request.
For more information, visit doctorwaynesuway.com or facebook.com/waynegsuwaydds.
Posted on behalf of Dr. Wayne G. Suway
1820 The Exchange SE, #600
Atlanta, GA 30339
Phone: (770) 953-1752
FAX: (770) 953-6470
Mon - Thu: 8:30 AM – 5:30 PM
Closed for lunch: 12:30 PM - 1:30 PM