Is Your Dental Office Keeping Up with Technology?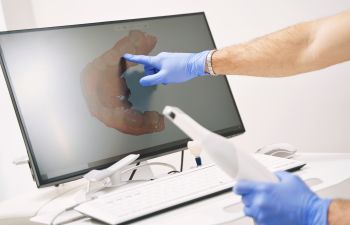 If there is one thing that we can all agree on, it's the overwhelming impact that advancing technology can have on our lives. Technology can make things easier, faster and more accurate than ever before. Technology is changing and improving in nearly every field, including dentistry. Having a dentist that is up-to-date with the modern technology available is important, as it can drastically impact your experience at the dental office as well as your results.
Here are just a few technologies to look for in your dentist:
Electronic Dental Records

We are proud to be a paperless office, which means we keep track of and manage patient records electronically. Digital records are certainly more economical, but they also allows us to transfer and access patient information easily and efficiently when needed.

Intraoral Cameras

Each treatment room is stocked with an advanced intraoral camera. This small device offers remarkable advantages for both dentist and patient. Intraoral cameras project clear, real-time images of your teeth and gums on a chairside computer monitor, which helps us make a more accurate diagnosis and allows you to better understand your treatment plan.

3D Cone Beam Technology

When it comes to more advanced procedures like dental implants, cone beam 3D radiography is an unprecedented technology addition. Cone-beam computed tomography imaging represents the latest in dental imaging. When used for dental implants, a CBCT scan can produce high-quality 3D images in a comfortable and safe environment. Not only can this state-of-the-art system capture precise images of the teeth, soft tissues, nerve pathways and bone with just one quick scan, but its built-in sensor technology does so with lower radiation exposure than other imaging systems. This equates to a more accurate, more predictable and safer dental implant surgery.
While dentists have been cleaning and restoring teeth for centuries, the way they do it has drastically changed as technology has evolved. As a dental patient, we encourage you to ask your dentist about the technology that will be used to care for your smile and boost your experience in the dental chair. Dr. Wayne Suway is proud to offer advanced 3D cone beam imaging and other technologies for an optimal dental care experience.
Posted on behalf of Dr. Wayne G. Suway
1820 The Exchange SE, #600
Atlanta, GA 30339
Phone: (770) 953-1752
FAX: (770) 953-6470
Mon - Thu: 8:30 AM – 5:30 PM
Closed for lunch: 12:30 PM - 1:30 PM