Is My Dental Problem a Dental Emergency?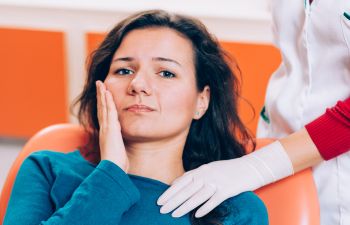 As we navigate this time of crisis in our nation and seek to protect the health of our people the best we can, the government and state dental associates have recommended that dental offices restrict services to emergency care only. While patients are typically comfortable with delaying their routine dental cleaning or understand when their smile makeover needs to be postponed, it can be confusing when an actual dental concern arises. Whether it is a damaged tooth, lost filling or sudden toothache, does your dental concern warrant emergency treatment and fall within the allowed dental services during the COVID-19 crisis?
While dental emergencies are common, not every issue demands immediate treatment. To help you determine if you need an emergency dentist, ask yourself the following:
Are you in severe pain?
Have you lost a tooth?
Do you have loose teeth?
Do you have signs of an infection (swelling on gums or face)? An abscess or serious infection in your mouth can be potentially life-threatening, and treatment should not wait.
Are you bleeding from the mouth?
Do you have a severe tooth fracture that is causing pain?
How the ADA Defines Dental Emergencies During the COVID-19 Pandemic
The ADA describes dental emergencies as concerns that are potentially life threatening and require immediate treatment to stop ongoing tissue bleeding, alleviate severe pain or infection. A complete list of what the ADA constitutes as a dental emergency during the COVID-19 crisis can be found here.

What If You Are Still Unsure?
Some dental problems can be addressed at home or wait several days. The only way to know for sure is if you call your dentist. While our office may be closed during this time, Dr. Wayne Suway remains on call to answer your questions and concerns over the phone. It is always best to discuss your dental concerns with us before you assume your treatment can wait. In general, routine cleanings can be delayed as well as any elective or cosmetic dental procedure. In many cases, cavity repair can also be temporarily delayed if the decay is asymptomatic.

At the office of Dr. Wayne Suway, we are diligently taking measures to protect the overall health and safety of our patients. In such a time as this, some dental treatments may need to be rescheduled to a later date. However, we know that there are also some dental problems that simply can't wait. While we ask that you do your best to prevent dental emergencies, we realize this isn't always possible. We never want our patients to ignore pain or end up with a more serious oral health issue due to these new guidelines for dental care during COVID-19.  Call today for top quality emergency dental care in Marietta.
Posted on behalf of Dr. Wayne G. Suway
1820 The Exchange SE, #600
Atlanta, GA 30339
Phone: (770) 953-1752
FAX: (770) 953-6470
Mon - Thu: 8:30 AM – 5:30 PM
Closed for lunch: 12:30 PM - 1:30 PM