Is It Time To Upgrade Your Dentures?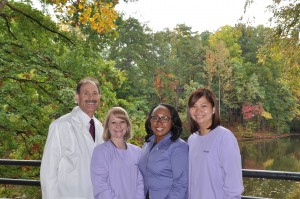 It is no surprise that traditional dentures have drawbacks. Whether you are tired of eating a boring, soft-foods diet or your gums simply can't take any more friction from denture slipping, you can upgrade your replacement teeth to a more secure and comfortable option. Many patients are choosing to anchor their dentures with dental implants to attain a more natural smile function. You can choose to fix your dentures permanently in place with implants or you may elect a removable option, in which your dentures "snap on" to a dental implant attachment.
How many dental implants will you need to secure your dentures? This largely depends on your individual case and whether you are anchoring a top row of dentures, bottom row, or both. Most commonly, two to four implants are needed in the lower jaw. The lower dentures rely on the lips, tongue and cheeks to hold them in place. Therefore, implants can provide invaluable security.
If you are considering making the upgrade to implant-supported dentures, time is of the essence. Dental implants require adequate bone to make them successful. Unfortunately, missing teeth lead to bone atrophy since the jaw is no longer stimulated. Patients with implants do not need to worry about this significant repercussion because the implant acts as a life-like tooth root. While bone grafting can be used to rebuild lost bone before implant placement, it is always best to get dental implants before the bone has deteriorated, which can occur with traditional dentures. In fact, the slow atrophy of the bone underneath traditional dentures is what causes many denture wearers to lose proper support and need frequent denture adjustments.
Not only can dental implants change your life on the outside, allowing you to eat, speak and laugh more confidently, but they can also deliver profound improvement on the inside by preserving the health and structure of your jawbone.
If your replacement teeth have become a burden or source of frustration, call Dr. Wayne Suway. He is a renowned implant specialist who can upgrade your smile with dental implants!
Posted on behalf of Dr. Wayne G. Suway
1820 The Exchange SE, #600
Atlanta, GA 30339
Phone: (770) 953-1752
FAX: (770) 953-6470
Mon - Thu: 8:30 AM – 5:30 PM
Closed for lunch: 12:30 PM - 1:30 PM