Is it Time to Address Your TMJ Pain?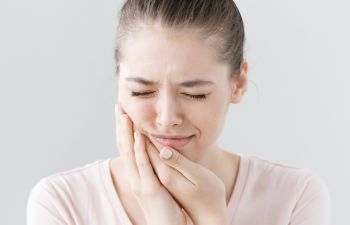 Do you suffer from chronic headaches or a painful, clicking jaw? These disruptive symptoms are a common indicator of TMJ disorder. When the TMJ (temporomandibular joint) becomes damaged, irritated or strained, it can have a negative impact on both your quality of life and your oral health.  Regardless of the severity of your TMJ/TMD, a qualified dentist such as Dr. Wayne Suway in Marietta can offer an effective treatment plan to help you regain a comfortable smile.
What are the symptoms of TMJ?
Many people suffer from chronic facial or neck pain and recurrent headaches associated with Temporomandibular Disorder, or TMD. Your temporomandibular joints, or jaw joints, connect your lower jawbone to your skull. These joints are used frequently throughout the day, during speaking, chewing, swallowing and yawning. When this joint is dysfunctional or problematic, it can result in disruptive pain and even restricted movement in the jaw.

Left untreated, TMJ disorder can trigger tension throughout your body, leading to other health problems over time. Fortunately, patients with headaches, a sore jaw or even ear pain that is related to temporomandibular disorder can often find successful relief from their dentist.
Recognizing TMD is the first step. If you are experiencing the following symptoms of TMD, call Dr. Wayne Suway for help:
Pain in the jaw area
Pain, ringing, or stuffiness in the ears
Frequent headaches or neck aches
Clicking or popping sound when the jaw moves
Swelling on the sides of the face
Muscle spasms in the jaw area
A change in the alignment of top and bottom teeth
Locked jaw or limited opening of the mouth
Don't let your painful or still jaw compromise your daily living. Our Marietta office is happy to see you about TMJ/TMD treatment. We look forward to providing the effective solutions you need to alleviate your jaw pain.
Posted on behalf of Dr. Wayne G. Suway
1820 The Exchange SE, #600
Atlanta, GA 30339
Phone: (770) 953-1752
FAX: (770) 953-6470
Mon - Thu: 8:30 AM – 5:30 PM
Closed for lunch: 12:30 PM - 1:30 PM