Is Cosmetic Dentistry Right for You?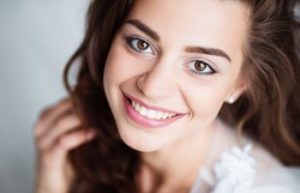 Your smile is a powerful asset. Not only does its appearance affect how you feel about yourself, but it also influences how you are perceived by others. About two-thirds of Americans are more likely to remember attractive features than those they find to be unpleasant. This begs the question: are you satisfied with the way your teeth look?
With the advancements in cosmetic dentistry, there is no reason to hide your smile due to imperfect teeth. Whether you have teeth that are stained, gapped, crooked or chipped, there are straightforward and effective solutions to reverse your flaws. Through procedures such as dental bonding, teeth whitening, porcelain veneers and dental bridges, patients can make permanent corrections to their teeth and attain the smile of their dreams.
The Value of Cosmetic Dentistry
Cosmetic dentistry can boost your self-confidence, your relationships and even your career. So if you are shying away at cosmetic dentistry due to cost, you should consider what you are investing in. For most patients, it is a drastic improvement in their quality of life. In addition, a smile makeover with cosmetic dentistry can take years off of your appearance – at an expense far less than plastic surgery. Lastly, your cosmetic correction may not be as costly as you may think. Procedures such as dental bonding can effectively address mild imperfections such as small spacing issues between your teeth, discoloration or minor chips. Bonding is extremely affordable and can be done in just minutes without local anesthetic.
If you find yourself hiding your teeth in selfies or avoiding face-to-face conversations with new clients at work due to an unattractive smile, consider cosmetic dentistry. It can be a life-changing investment at any stage of life. When choosing Dr. Wayne Suway, your new smile will be in the hands of a talented and highly skilled cosmetic dentist. Dr. Suway understands the careful blend of artistry and science that it takes to create beautiful, balanced and natural-looking results in cosmetic dentistry. Call today to schedule your smile makeover in Marietta!
Posted on behalf of Dr. Wayne G. Suway
1820 The Exchange SE, #600
Atlanta, GA 30339
Phone: (770) 953-1752
FAX: (770) 953-6470
Mon - Thu: 8:30 AM – 5:30 PM
Closed for lunch: 12:30 PM - 1:30 PM