Is Bottled Water Bad for Your Teeth?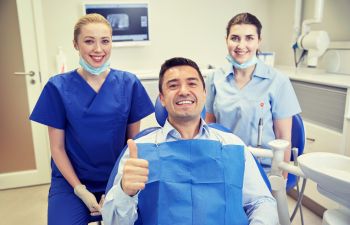 Water is an essential element to living. Regardless of whether you get your eight glasses a day, most Americans are getting their water intake through bottled water. In fact, according to total sales, the U.S. market is the largest bottled water consumer market. In 2019, U.S. bottled water sales volume amounted to approximately 14.4 billion gallons – the highest volume of bottled water ever sold in the United States!
When it comes to your dental health and bottled water, the concern is not what it is doing to your teeth but rather what it is not doing. Since bottled water has become so popular, there has been a coinciding rise in cavities – and here's why.
Where's the Fluoride?
The American Dental Association refers to fluoride as "nature's cavity fighter." Fluoride is a compound found in nature that has been proven to protect the teeth from decay. This is one reason why nearly every municipality in the nation has been adding fluoride to their water supply since the 1950s. This helps Americans get valuable doses of cavity prevention with every sip – as long as they are drinking from their home's tap water!
Unfortunately, while bottled water is convenient and purified, it does not contain fluoride. Dentists are noticing the rise in bottled water consumption, especially among children. There has been a significant rise in cavities for children under the age of 10. In a survey published by the journal of Pediatric Dentistry it was reported that 70 percent of parents give their children bottled water for reasons as varied as convenience, taste preference, or fear of tap water.
Ways to Get Fluoride
Regardless of why you are letting your family rely on bottled water, you'll need to find other ways to get fluoride. Beyond tap water, patients can get adequate amounts of daily fluoride with the following:
Drink More Tap Water
Brush with Fluoride Toothpaste
Rinse with Fluoride Mouthwash
Chew Fluoride Supplements
Request Fluoride Treatment from your Dentist
Are you worried that you or your children are not getting enough fluoride? Don't wait until your teeth show signs of decay. Call Dr. Wayne Suway in Marietta and let us help!
Posted on behalf of Dr. Wayne G. Suway
1820 The Exchange SE, #600
Atlanta, GA 30339
Phone: (770) 953-1752
FAX: (770) 953-6470
Mon - Thu: 8:30 AM – 5:30 PM
Closed for lunch: 12:30 PM - 1:30 PM