How's Your Tongue Hygiene?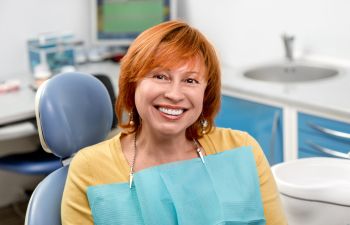 Your tongue is one of the strongest, most important muscles in your body. It gives you the ability to speak as well as swallow and taste. However, did you know that it also plays a critical role in your oral health?
Your tongue's surface is covered in tiny bumps (papillae) and grooves that harbor bacteria, dead skin cells and food particles. A thin layer of mucus coats this surface to make it the perfect moist environment for bacteria to live and breed. If not cleaned properly, your tongue can be the reason you have bad breath and why your tooth brushing efforts get sabotaged. Any lingering bacteria on the tongue can quickly get redeposited onto the teeth and gums after you brush, which can lead to gum disease and cavities due to plaque and tartar buildup.
What can you do to prevent millions of bacteria from living on your tongue and causing oral health problems? It's simple – tongue hygiene! How well are you cleaning your tongue each day? Are you taking the time to clean your tongue at all? Here's some simple tips to make sure you are not walking away from your toothbrush with a dirty, bacteria-ridden tongue.
After you brush your teeth for two minutes and floss, you need to tend to your tongue. Tongue hygiene can be accomplished by the following:
Apply some toothpaste to your tongue to neutralize the bacteria.
Use a special tongue brush, tongue-scraper or the back attachment of your toothbrush to clean your tongue in a downward motion. Be sure to clean all surfaces of your tongue!
Rinse with water to ensure bacteria and food particles don't get transferred to your teeth and gums.
Consider mouthwash to further kill bacteria and promote fresh breath.
At the office of Dr. Wayne Suway, we understand the importance of tongue health as it relates to the health of your smile and your body. In fact, there are characteristics of your tongue that can signal certain medical conditions or vitamin deficiencies. Contact Dr. Wayne Suway if you are concerned about the way your tongue looks. We are also happy to share more tips on how to keep your tongue healthy and clean between dental visits!
Posted on behalf of Dr. Wayne G. Suway
1820 The Exchange SE, #600
Atlanta, GA 30339
Phone: (770) 953-1752
FAX: (770) 953-6470
Mon - Thu: 8:30 AM – 5:30 PM
Closed for lunch: 12:30 PM - 1:30 PM