How 3D Imaging Improves Your Dental Care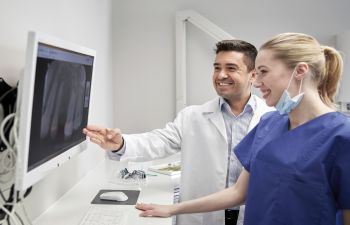 Like other health industries, the dental field is constantly improving in response to advancing technology. One of the most highlighted ways that technology has impacted dentistry is with imaging. Today, many modern dental dentists, such as Dr. Wayne Suway, have invested in the 3D Cone Beam CT Scan. This fast and non-invasive x-ray technology has dramatically improved the way many dental procedures are performed, from extractions to dental implant placement. Before 1958, patients didn't even sit in a reclining dental chair. Today, they can attain remarkably clear three-dimensional images taken of their entire oral cavity in a matter of seconds.
There are times in which two-dimensional images just aren't enough to get an accurate picture of your teeth, jaw and oral tissues. That's why the dental Cone Beam CT scan has become increasingly popular. The dental CT (computed tomography) is a way to reveal structures deeper beneath the surface compared to what is captured during traditional imaging. This CT imaging can capture the teeth, nerves, sinuses, soft tissues (gum, cheek, tongue, etc) and jawbone in a single scan. The dental CT scan emits less radiation than the traditional CT scans you'd get at a hospital or medical facility. It is also non-invasive and comfortable for the patient, and provides invaluable benefits for the dentist and your treatment plan.
A dental 3D CT Scan can be used for more accurate treatment planning in the following:
Dental implant placement
Wisdom tooth extraction
Diagnosing oral pathology
Determining whether a tooth is fractured or cracked
Detecting hidden infections
In a matter of 30 seconds or less, the dental CT scanning unit moves around the patient's head and captures real-time images of each angle to reveal a single three-dimensional image. Using this image that is projected onto the computer screen, dentists can determine the most accurate placement for dental implants into the jawbone, allowing for a less-invasive surgery and more successful outcome. The Cone Beam scan can also be used for bone grafting, sinus lift augmentation and other implant services that are offered at our dentist office in Atlanta.
At the office of Dr. Wayne Suway, we love giving patient the most advanced technology that dentistry has to offer. This results in more comfortable and faster procedures as well as better results for your smile. Call today to learn more about dental implants using advanced dental technology from our Marietta office.
Posted on behalf of Dr. Wayne G. Suway
1820 The Exchange SE, #600
Atlanta, GA 30339
Phone: (770) 953-1752
FAX: (770) 953-6470
Mon - Thu: 8:30 AM – 5:30 PM
Closed for lunch: 12:30 PM - 1:30 PM