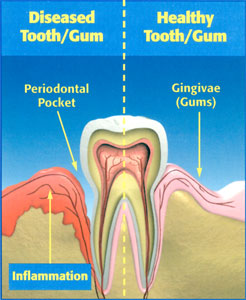 Gum disease is a common condition that affects millions of Americans. Inflamed gums, gums that bleed easily, tooth loss, and/or persistent bad breath are all signs of gum disease. Many people pass these signs off as "typical" oral issues. "Everyone has bad breath sometimes, right? Of course my gums bleed when I floss, don't yours?" Actually, healthy gums should not bleed when flossing, and bad breath that doesn't go away is not typical. Much too often, people do not report their symptoms or signs to their dentist until the situation has gotten too far out of hand. Many people simply aren't aware that gum disease can cause irreversible damage to the teeth and gums. In fact, untreated gum disease can lead to even more serious health problems such as heart disease and diabetes. Diagnosis and treatment of gum disease at its early stages are essential to maintaining optimal oral health.
The most common cause of gum disease is poor oral hygiene. Brushing and flossing the teeth are not suggestions given by every dentist. Brushing the teeth at least twice a day and flossing the teeth every day is essential to optimal oral hygiene. Brushing and flossing remove food particles, bacteria, sugar, and acid from the mouth. By removing these substances, the teeth are able to continue to thrive in an optimal condition. However, when there are food particles left between the teeth, bacteria form that breaks down the food. This bacteria turns the food particles into sugar, and the sugar left behind is then turned into acid that causes tooth erosion. This entire process can begin in less than 24 hours. That's right, missing just one day of cleaning the teeth can start the process for gum disease and tooth erosion. That's no joke.
By keeping up with an oral hygiene routine and by seeing the dentist on a bi-annual basis gum disease can be avoided for most people. For others who may be more susceptible to gum disease (e.g. genetics, smoking, certain medications), there is hope. When gum disease is caught in its beginning stages, further damage can be prevented. By keeping dental appointments, dentist are able to spot any signs of gum disease early so that it can be treated.
Bottom line: In order to prevent gum disease, you need to keep your dental appointments and keep brushing and flossing your teeth!
Posted on behalf of Dr. Wayne G. Suway
1820 The Exchange SE, #600
Atlanta, GA 30339
Phone: (770) 953-1752
FAX: (770) 953-6470
Mon - Thu: 8:30 AM – 5:30 PM
Closed for lunch: 12:30 PM - 1:30 PM