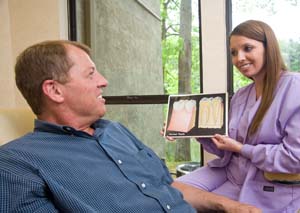 Gum disease is an infection of the gum tissues within the mouth that can lead to serious oral health issues and tooth loss. In fact, gum disease is the major cause of the majority of adult tooth loss in the United States. Gum disease is also one of the only diseases that is easily reversed, giving many people hope that they can restore their smiles and keep them healthy in the future. Wayne G. Suway, DDS, MAGD of Vinings wants all of his patients to understand that prevention is the most important weapon again gum disease, and most of the prevention occurs at home.
Bacterial plaque is the sticky, white film that forms on the teeth. It's the stuff that you can feel if you run your tongue over your teeth and they feel "fuzzy." Plaque is a naturally occurring substance from the breakdown of the foods that we eat; however, if it is not removed each day by brushing and flossing, it hardens into tartar. The toxins released by plaque and tartar irritate the gums and cause them to become irritated and infected. If left untreated, this infection can eat away at the gum tissues cause the teeth to become lose and the jawbone to become compromised.
In its earliest stage, gum disease can be treated and reversed through a professional dental cleaning and treatment. Scaling and root planning, which removes the plaque and tartar around the tooth and involves the smoothing of the roots' surfaces, are part of the treatment for gum disease. More advanced cases of gum disease will require more invasive and aggressive treatment to save the teeth that are surrounded by infected gums.
Dr. Wayne Suway has over 30 years of dental experience treating patients. While he promotes prevention, he understands that there are times when gum disease can sneak up on all of us. For effective, yet gentle, treatment of gum disease call the dental practice of Dr. Wayne Suway to schedule an appointment.
Posted on behalf of Dr. Wayne G. Suway
1820 The Exchange SE, #600
Atlanta, GA 30339
Phone: (770) 953-1752
FAX: (770) 953-6470
Mon - Thu: 8:30 AM – 5:30 PM
Closed for lunch: 12:30 PM - 1:30 PM