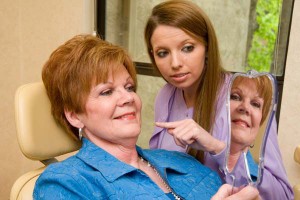 Many people tend to associate gingivitis with horrible gum disease, but little do they know that gingivitis is the actual beginning stage of gum disease. Gingivitis starts by plaque forming on the teeth and gums inside the mouth. If plaque is not removed daily by flossing and brushing, it produces poison that begins to irritate the gums, causing gingivitis. When gingivitis is not treated in its early stage, it will cause damage that cannot be reversed.
Wayne G. Suway, DDS, MAGD offers comprehensive dental care for all of his patients. Almost everyone can avoid gingivitis by sticking to a consistent oral hygiene routine. Flossing must be a part of this routine. It is common knowledge that many people hate to floss and do not do it on a regular basis. However, apparently it is not common knowledge that flossing is more important than brushing when it comes to oral health. Yes, you read that right! Flossing does more for the teeth and gums than brushing can do. Floss is able to maneuver between the teeth where a tooth brush cannot reach, removing food particles and plaque. If food particles and plaque are left between the teeth, they will begin to rot away the enamel.
Because gingivitis affects the gum tissues, it travels very fast in the mouth. All tissues are considered to be alive within our bodies. Therefore, just like a virus that runs through our system, gingivitis runs through the tissues of the mouth and spreads. Meaning, that what starts out as just a couple of teeth being infected with gingivitis can quickly spread to the entire mouth. Let Dr. Wayne Suway be your trusted dentist in Vinings so that your oral health remains a top priority.
Posted on behalf of Dr. Wayne G. Suway
1820 The Exchange SE, #600
Atlanta, GA 30339
Phone: (770) 953-1752
FAX: (770) 953-6470
Mon - Thu: 8:30 AM – 5:30 PM
Closed for lunch: 12:30 PM - 1:30 PM