Frequent Headaches? Your Teeth May Be The Problem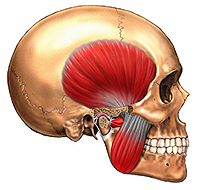 You may think to call in an appointment with your primary physician when you have frequent headaches, but did you know that your first call should actually be to your dentist? That's right. In many cases, frequent headaches can actually be more effectively treated by your dental care provider than your general care provider. That is because, many sufferers of frequent headaches are actually having pain related to their teeth. Temporomandibular Joint Disorder (TMJ) is a very common cause of debilitating and recurrent headaches. The temporomandibular joint connects the skull to the face, and when there are issues with the joint and/or muscles surrounding the joint, frequent headaches are a common issue.
Dr. Wayne Suway has been treating dental patients for over 35 years, and he has the experience and understanding of how the TM joint can cause extremely debilitating symptoms for his patients. Many patients who suffer from TMJ experience headaches, popping or clicking sounds in the jaw (especially when eating), soreness or pain when yawning or opening the mouth wide, ringing in the ears, pain in the face or jaw, and even pain in the back, neck, or shoulders. TMJ is often brought about by stress on the TM joint. Clenching the jaw during stressful situations or seasons of life, grinding the teeth at night, and/or a misaligned bite can all put unwanted stress on the joint and cause pain.
For effective treatment of TMJ, Dr. Suway will carefully evaluate your bite and your jaw and design a treatment plan that will provide long-term relief. If you are experiencing frequent headaches, any pain or soreness in your jaw, or pain in your neck or shoulder that cannot be explained or has not been effectively treated, please contact the dental practice of Dr. Wayne Suway. Dr. Suway is a Master Dentist who can be trusted to care for your teeth and complete oral health with the highest level of attention and compassion.
Posted on behalf of Dr. Wayne G. Suway
1820 The Exchange SE, #600
Atlanta, GA 30339
Phone: (770) 953-1752
FAX: (770) 953-6470
Mon - Thu: 8:30 AM – 5:30 PM
Closed for lunch: 12:30 PM - 1:30 PM