Four Ways to Non-Surgically Treat Gum Disease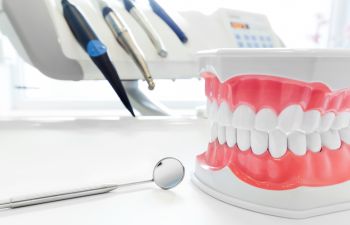 Your gums are the foundation of your smile. Not only do these soft tissues help hold your teeth in place, but the condition of your gums is closely linked to your overall health. Periodontal disease is the most serious threat to your gums and it is also the most prevalent oral health conditions. Nearly half of American adults suffer from some form of gum disease, according to the CDC .
Gum disease begins when plaque and bacteria accumulate along the gum line. As the gums become irritated and infected, they will present visible signs of redness, tenderness, puffiness and bleeding. If allowed to progress, this gum infection can cause the gums to pull away from the tooth roots and even destroy the underlying bone. Advanced gum disease has also been associated with systemic health concerns, including stroke, heart attack, diabetes and premature birth. In short, gum disease is a condition that needs to be addressed promptly and effectively.
If caught in a timely manner, gum disease can be managed and reversed with non-surgical therapies. Depending on the severity of your periodontal disease, one of the following may be recommended:
#1 Better Hygiene, Better Habits
In mild cases, such as gingivitis, gum disease can be reversed easily with a simple change in habits. This may include a decision to stop smoking, better brushing and flossing habits, proper management of a diabetes condition or other lifestyle choices that reduce your risk for gum disease.
#2 Deep Cleaning
One of the most proven treatments for mild to moderate gum disease is a deep cleaning, which is commonly termed scaling and root planing. This procedure involves a combination of handheld instruments and ultrasonic cleaners that get rid of bacteria and plaque in the pocket of infected gum tissues. A deep cleaning sanitizes the gums and encourages the gums to reattach to the surface of the tooth roots.
#3 Antibacterial Solutions and Mouth Rinses
In some cases, your dentist may prescribe a special mouth rinse or antibacterial solution to use on a daily basis. This can reduce the amount of harmful bacteria in your mouth and allow your gums the chance to heal instead of deteriorate further.
#4 Laser Gum Cleaning
Laser technology has revolutionized many facets of dentistry, including how we address gum problems. Dental lasers can treat soft-tissue damage before it becomes a severe problem. The laser allows for a pain-free method of removing and killing bacteria deep between the gums and teeth. It also acts as a sterilization device for gums before or during root canals or cavity repair procedures.
If you are concerned about the condition of your gums, don't ignore it. At the office of Dr. Wayne Suway, we offer a variety of methods to treat mild to advanced gum disease. By restoring the health of your gums, we can protect your smile as well as your overall health.
Posted on behalf of Dr. Wayne G. Suway
1820 The Exchange SE, #600
Atlanta, GA 30339
Phone: (770) 953-1752
FAX: (770) 953-6470
Mon - Thu: 8:30 AM – 5:30 PM
Closed for lunch: 12:30 PM - 1:30 PM