Dr. Suway Reveals the Impact of Sleep Apnea Treatment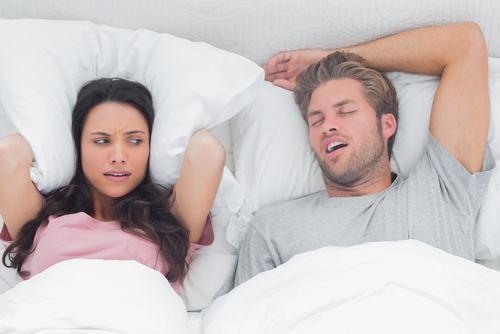 Sleep apnea is a dangerous medical condition that can often be treated effectively once diagnosed. Our experienced cosmetic dentist has treated numerous patients suffering from the problem in cases ranging from mild to severe. One patient in particular stands out to Dr. Wayne Suway, as the treatment significantly impacted his life and lowered his risk of developing more serious medical conditions.
The patient had a severe case of sleep apnea and would stop breathing at night for several times an hour for about 20 seconds at a time. He could not wear the CPAP machine to help improve his breathing, so he underwent surgery to open up the airway. While this helped his condition, the patient still had moderate sleep apnea. As a result, he was tired in the mornings and drank caffeine all day to cope. Dr. Suway was able to make him a dorsal oral appliance, which is his go-to method of treating sleep apnea, as it can be altered to provide even better results.
After wearing the new appliance at night, the patient went from having moderate sleep apnea down to a normal range, where he never stopped breathing. He even gave up caffeine because he felt great in the mornings from consistently getting a good night's sleep. Dr. Suway is proud to offer such a life-changing treatment to his patients with sleep apnea, as it can provide such a positive impact on their lives and overall health.
If you would like to learn more about our methods of treating sleep apnea, or if you would like to schedule a consultation with Dr. Suway, please contact us today.
Posted on behalf of Dr. Wayne G. Suway
1820 The Exchange SE, #600
Atlanta, GA 30339
Phone: (770) 953-1752
FAX: (770) 953-6470
Mon - Thu: 8:30 AM – 5:30 PM
Closed for lunch: 12:30 PM - 1:30 PM