Do You Need TMJ Treatment?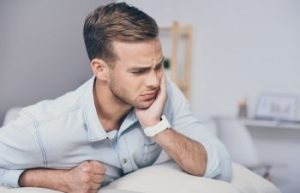 When it comes to your ability to speak, laugh and chew, we often consider the teeth and tongue as primary parts. But what about the jaw? Your jaw joint (or Temporomandibular joint) is the powerful engine behind it all. In fact, the TMJ is one of the most frequently used joints in the entire body! It's not surprising that the jaw joint is susceptible to damage, inflammation and pain. The TMJ can become injured in a sudden trauma, but it most often suffers harm from overuse or excessive strain.
It is important to pay attention to any changes you feel in your TMJ. TMJ disorder can be effectively treated by a skilled dentist, but it often involves some level of intervention. If left alone, TMJ disorders can lead to debilitating pain that compromises your ability to eat, speak and enjoy life.
What Causes TMJ Problems?
There are a variety of causes for TMJ disorder, including injury, disease, teeth grinding and misalignment. It is important to let a dentist give you an accurate diagnosis before a treatment plan is put in place. For instance, a nighttime mouthguard will not help your TMJ if your jaw pain is a result of malocclusion that requires braces.
How to Recognize TMJ Disorder?
It is critical that you know the warning signs of TMJ disorder so that your condition can be treated promptly and more conservatively. If you are experiencing only mild symptoms, be sure to mention it to your dentist at your next dental checkup. It may be as simple as avoiding chewing gum for several weeks to give your jaw muscles a break. Regardless, your jaw is a primary component over your overall dental health and it demands proper care.
Are you experiencing the following signs and symptoms? You may qualify for TMJ treatment:
Swelling or pain around the TMJ region
Limited movement with side to side movement or locking of the jaw when closed
Eye pain behind your eyes
Tension headaches
Earaches or ringing in your ear
Eating feels laborious or tiring
Jaw stiffness
Bite changes
popping or clicking noises in the jaw
Jaw and facial pain
Jaw dislocation when your mouth is open
If you think you could have TMJ disorder, don't delay treatment. Call Dr. Wayne Suway in Marietta for a full evaluation and effective solution. We never want your teeth, gums or jaw to be a reason for daily disruption or discomfort. Dr. Suway has years of experience in treating mild to complex TMJ issues.
Posted on behalf of Dr. Wayne G. Suway
1820 The Exchange SE, #600
Atlanta, GA 30339
Phone: (770) 953-1752
FAX: (770) 953-6470
Mon - Thu: 8:30 AM – 5:30 PM
Closed for lunch: 12:30 PM - 1:30 PM