Do You Need a Denture Reline?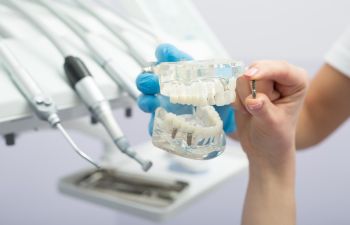 Are you struggling to find the comfort you once had in your dentures? Modern dentures offer a remarkable replica to your natural teeth. While they can be custom-made for ideal comfort and function, it is not uncommon for denture wearers to experience changes in the way their dentures fit over time. If your dentures feel loose, unstable or uncomfortable, it may be time for a denture reline.
Reasons for Denture Reline
If your replacement teeth need an adjustment or reline to regain comfort, it doesn't mean you've done something wrong or that you necessarily need new dentures. In fact, reline services are a normal and expected part of wearing dentures. Dentures may need to be relined due to the following reasons:
Daily wear and tear
Bone loss (jaw/alveolar ridge)
Changes in mouth shape
Accidental breakages
What is a Denture Reline?
As you age, the shape of your jawbone and gums will naturally change. Since traditional dentures rest in place on top of your gums, this can also mean that your dentures can lose their ideal fit. A dental reline is a simple procedure that can reshape the underside of your denture so that it can fits secure and comfortably along your gums.  Depending on your needs and specific concerns, your denture adjustment can include a hard reline or a soft reline.
Signs You Need Denture Reline
Even the best-fitting and most high quality dentures can require a denture reline. It is important to recognize the need for a reline so that you don't struggle through uncomfortable or loose dentures, which can lead to low self-confidence as well as sore spots on your gums.
Warning signs that you may need to schedule a denture reline include:
Prolonged discomfort, sores and infections
Difficulty chewing your food
Two years since your last denture reline
Loose-feeling dentures
At the office of Dr. Wayne Suway, we believe that everyone deserves comfortable dentures.  Our Marietta office proudly offers a wide range of affordable denture services including emergency denture repairs and relines to ensure you get the maximum return on your teeth replacement investment.
Posted on behalf of Dr. Wayne G. Suway
1820 The Exchange SE, #600
Atlanta, GA 30339
Phone: (770) 953-1752
FAX: (770) 953-6470
Mon - Thu: 8:30 AM – 5:30 PM
Closed for lunch: 12:30 PM - 1:30 PM