Diabetes and Oral Health: A Two-Way Street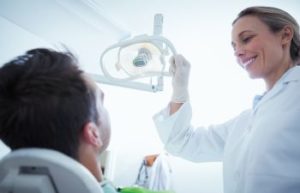 If you are diabetic, you must take extra measures to protect your health – and this includes your oral health. In fact, diabetes is known for causing problems within the teeth, gums and mouth. If you are among the 23 million Americans that have diabetes, it is critical that you let your dentist know. At the office of Dr. Wayne Suway, we can tailor a dental care plan that shields your smile health from the effects of diabetes.
How does diabetes affect the mouth? Oral health complications typically emerge in those that have uncontrolled diabetes, or when blood sugar levels are not well managed. Diabetes is a condition that inhibits the body from correctly processing sugar. The excess sugar can in turn compromise the immune system and cause a diabetic to be more susceptible to oral infections, particularly gum disease. Left untreated, gum disease can lead to tooth loss and other serious threats to one's overall health.
While diabetes certainly affects oral health, the reverse is also true. In other words, gum disease and diabetes is a "two-way street."  If you have uncontrolled gum disease, you are also at risk for diabetes. When there is an infection within the gums that goes untreated, the infection can enter the bloodstream and affect other major organs in your body. Gum disease has been associated with diabetes, stroke, heart disease and premature births!
If you have diabetes, you have a responsibility to monitor your oral health very closely. Diabetes can produce several different symptoms within the mouth, including the following:
Decay
Burning mouth syndrome
Taste irregularities
Thrush
Along with diligent brushing and flossing habits, it is important that a diabetic visit the dentist on a recommended basis. Your dentist may want to see you every 3 months instead of 6 if your oral health is at risk. Most importantly, it is critical that you work with your primary care physician to keep your blood glucose levels under control – your smile will thank you!
Dr. Wayne Suway is an experienced family dentist who is highly trained to care for patients with diabetes. We offer a full menu of dental treatments so that we can reverse all types of dental health disturbances in a timely and efficient manner. Call today to schedule your dental checkup!
Posted on behalf of Dr. Wayne G. Suway
1820 The Exchange SE, #600
Atlanta, GA 30339
Phone: (770) 953-1752
FAX: (770) 953-6470
Mon - Thu: 8:30 AM – 5:30 PM
Closed for lunch: 12:30 PM - 1:30 PM