Dentures: All-on-4 or Implant-Retained?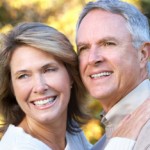 If you are faced with replacing multiple missing teeth, you may have heard the terms "All-on-4 dentures" and "implant-retained dentures." To help you to make the right choice for you with your dentures, here is a quick and simple explanation of the differences between the two.
Both of these options have revolutionized the way dentures are offered. They both rely on implants to support a set of prosthetic teeth. Unlike traditional dentures, implant-supported dentures prevent bone loss and allow patients to eat, speak and chew with more confidence. However, implant-retained dentures are removable while All-on-4 dentures are not.
All-on-4 Dentures
This denture design allows for your prosthetic teeth to be permanently secured to four strategically placed implants. There is no need to remove them and clean them in special denture solutions. Instead, patients can adhere to a normal dental hygiene routine of brushing, flossing and seeing their dentist regularly.
Implant-Retained Dentures
This denture type is also supported by implants, but they are equipped with attachment parts so that the dentures can snap on and off. Caring for implant-retained dentures is more involved. Patients should remove the dentures at night and clean the dentures as well as the implant abutment area thoroughly. There are still many advantages to this type of dentures compared to traditional dentures. Patients do not have to worry with messy adhesive creams because the prosthetic teeth are securely in place with implants. In addition, bone loss is much less of a concern using implant-retained dentures compared to those that do not use dental implants at all.
Wayne G. Suway, DDS, MAGD will carefully listen to your specific goals regarding dentures. He always explains the profound advantages of choosing implant-supported dentures, including better comfort, higher function and more convenience. Both implant-retained and All-on-4 dentures are meant to provide the confident and complete smile you deserve!
Posted on behalf of Dr. Wayne G. Suway
1820 The Exchange SE, #600
Atlanta, GA 30339
Phone: (770) 953-1752
FAX: (770) 953-6470
Mon - Thu: 8:30 AM – 5:30 PM
Closed for lunch: 12:30 PM - 1:30 PM