Dental Implants: Don't Let Cost Keep You Away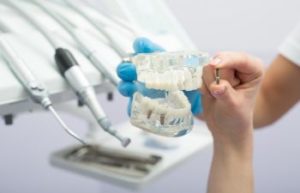 If you've suffered one or multiple missing teeth, you're likely faced with more than one solution in teeth replacement. If you are like many, you may be tempted to back away at the cost difference between dental implants and more traditional options like a bridge or removable denture. However, before you dismiss the pricier option, please seriously consider the profound benefits of choosing implants, as you'll quickly discover that the long-term return on your investment far outweighs the initial cost.
It's a permanent solution. Your dental implants expense will go towards a lifetime of dental function, optimal smile aesthetics and improved oral health. Once the implant is surgically inserted into the jawbone, it shouldn't need to be replaced. In fact, implants carry a 98% success rate!
It's the most natural treatment option. Dental implants can replicate your natural teeth better than any other available option. With an artificial tooth root and tooth, they provide a solution that looks, functions and feels like real teeth.
It's the least hassle solution. Guess what? Dental implants can be cared for just like natural teeth too. This is ideal for those that don't want to hassle with messy adhesive creams or special cleaning regimes. It'll save your wallet in special dental products over the years too.
It's improving your quality of life and protecting your long-term health. Dental implants allow patients to speak, laugh and eat with confidence. Not only does this promote a better quality of life, but it means you can enjoy a full spectrum diet. Many denture wearers avoid fibrous or protein-rich foods that are hard to chew, which can lead to obesity, diabetes and other health problems down the road.
It's preserving your facial appearance. Dental implants are the only way to prevent bone loss that occurs from missing teeth. Your jaw bone will be properly stimulated by the implant post, which means the lower tissues and bones of your face can retain their form and help you avoid premature facial aging.
At the office of Dr. Wayne Suway, we make sure patients have a clear understanding of the benefits behind the cost of dental implants. In addition, we offer flexible payment plans and financing options to ensure you can get the tooth replacement option you need and deserve in a timely manner, as waiting too long to get dental implants may result in the need for bone grafting. Call our office today to learn more.
Posted on behalf of Dr. Wayne G. Suway
1820 The Exchange SE, #600
Atlanta, GA 30339
Phone: (770) 953-1752
FAX: (770) 953-6470
Mon - Thu: 8:30 AM – 5:30 PM
Closed for lunch: 12:30 PM - 1:30 PM