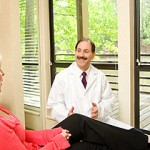 Dental implants have been touted as the most important dental accomplishment in dental history. Dental implants have allowed those with missing teeth a permanent solution to achieving a complete smile. Dr. Wayne G. Suway in Vinings is proud to offer this restorative dental service to patients who need a single tooth replacement or an entire mouth restoration. Dr. Suway, MAGD is recognized as a Diplomate of the International Congress of Oral Implantology, an achievement that is hard earned and well respected among his colleagues. Dr. Suway has helped a number of patients restore their smile to one of health, confidence, and beauty.
Missing teeth can cause serious consequences within the mouth. A complete smile is a healthy smile. The teeth work together to support one another as well as the jaw bone in which their roots are planted. When a hole is left within the smile, the neighboring teeth will lose their adjacent support and begin to loosen. The jaw bone will also begin to deteriorate because it does not have a structure to fasten to. This bone deterioration, will eventually cause the adjacent teeth to fall out; and this process will continue until all of the teeth are compromised. Dental implants provide stability for the remaining natural teeth and the strength that the jaw bone needs to remain healthy.
One of the most significant advantages of dental implants is that they provide a permanent replacement for missing teeth. Dentures must be replaced every few years because they do not prevent change in the mouth structure. As the mouth continues to change, the dentures will need to be recreated to fit comfortably inside the mouth. While dental implants are more expensive up front, the continued need for new dentures will eventually add up and may even exceed the cost of dental implants.
If you have missing teeth or damaged teeth that need to be extracted from the mouth, please contact Dr. Wayne G. Suway, MAGD, for exceptional service. Dr. Suway has been practicing implant dentistry for more than 25 years, and he has the experience, knowledge, and expertise to help you restore your smile. Call today to schedule a consultation.
Posted on behalf of Dr. Wayne G. Suway
1820 The Exchange SE, #600
Atlanta, GA 30339
Phone: (770) 953-1752
FAX: (770) 953-6470
Mon - Thu: 8:30 AM – 5:30 PM
Closed for lunch: 12:30 PM - 1:30 PM