Could You Detect Oral Cancer?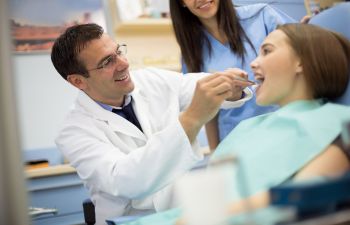 According to the Oral Cancer Foundation, oropharyngeal cancer is projected to kill 1 person per hour, 24 hours per day this year in the United States. Of the diagnosed individuals, only slightly more than half will be alive in 5 years. If mouth cancer is not on your radar, it should be. The fatal statistics on this type of oral cancer are largely due to late detection.
While oral cancer screenings are a part of our routine dental exams at the office of Dr. Wayne Suway. We value the importance of helping patients detect the warning signs at home so that an early and successful treatment is possible.
Signs to Look For
Oral cancer can develop in different parts of the mouth, including the lips, gums, roof of mouth tongue or inner cheeks. Therefore, it is important to consider and examine all parts of your oral cavity when looking for early oral cancer symptoms. In general, the following changes in your oral health may indicate mouth cancer:
Irritable or painful red or white patches
A lip or mouth sore that doesn't heal over extended periods of time
Difficulty swallowing, chewing or talking
Mouth pain
Bleeding in the mouth
Numbness in the tongue or cheeks
Ear pain
Looseness in teeth
Swelling
Are You at Risk?
Not all mouth cancer is preventable. However, there are certain adjustments in your lifestyle that can help protect you from this serious form of cancer. Oral cancer has been associated with the following causes:
Tobacco smoking/chewing
Excessive alcohol use
Failure to treat the sexually-transmitted disease known as human papillomavirus (HPV)
Genetic or hereditary predispositions
A weak immune system
Unprotected sun exposure on the lips
Have you been screened for oral cancer this year? Are you concerned about a mouth sore that is not healing? Please schedule an appointment at our Marietta office. We take a proactive approach to your smile health!
Posted on behalf of Dr. Wayne G. Suway
1820 The Exchange SE, #600
Atlanta, GA 30339
Phone: (770) 953-1752
FAX: (770) 953-6470
Mon - Thu: 8:30 AM – 5:30 PM
Closed for lunch: 12:30 PM - 1:30 PM