Could Veneers Provide "Instant Orthodontics"?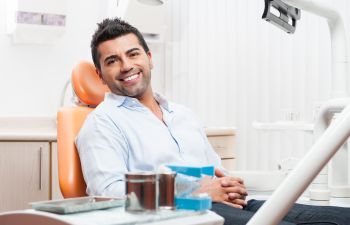 Do you have crooked or gapped front teeth that is causing you to hide your smile? You may assume you would need to undergo orthodontic treatment to correct your unsightly teeth. However, there is another breakthrough solution in cosmetic dentistry that can sometimes be a substitute for orthodontic correction, with results in just two short office visits instead of waiting months or years. Porcelain veneers are one of the most sought-after services to improve the appearance of the teeth. They can correct a variety of smile imperfections, including the ones that you thought only braces could fix!
What Are Cosmetic Dental Veneers?
Cosmetic dental veneers are very thin pieces of sculpted porcelain that are custom made in shape and color. These porcelain shells are bonded onto the front surface of the teeth to create a natural and attractive smile. When fabricated and placed correctly, porcelain veneers should be virtually indistinguishable from your natural teeth. Dental veneers are resistant to decay and staining and can even be more resilient than the natural enamel of your teeth. Since a tiny portion of your tooth is shaved off to allow the veneer bond to the surface, porcelain veneers are considered an irreversible cosmetic procedure. However, they are life-changing investment for most patients.
The Versatility of Porcelain Veneers
There are many scenarios in which porcelain veneers can help. Some patients use them as "instant orthodontics" to correct crooked front teeth. Other patients may have severe staining that tooth whitening cannot improve or have certain teeth that are not proportioned or balanced with the rest of their smile. With the cosmetic artistry and restorative skill of Dr. Suway, you can achieve the white, uniform and beautiful smile you have always wanted. Although a consultation is needed to determine your specific candidacy for this cosmetic procedure, porcelain veneers are commonly used to address the following:
Crooked teeth
Misshapen teeth
Severely discolored or stained teeth
Teeth that are too small or large
Unwanted or uneven spaces
Worn or chipped teeth
It is important to know that not all crooked or gapped teeth should be addressed with veneers. Since veneers just cover up your misaligned teeth instead of actually moving them, they should not be used in cases where your misalignment is severe or is compromising your bite. Veneers are also only used on the front teeth.
To find out if porcelain veneers could be your alternative solution for wearing metal braces as an adult, call Dr. Wayne Suway in Marietta. We welcome the opportunity to help you smile more confidently.
Posted on behalf of Dr. Wayne G. Suway
1820 The Exchange SE, #600
Atlanta, GA 30339
Phone: (770) 953-1752
FAX: (770) 953-6470
Mon - Thu: 8:30 AM – 5:30 PM
Closed for lunch: 12:30 PM - 1:30 PM