Cosmetic Dentistry to Look Younger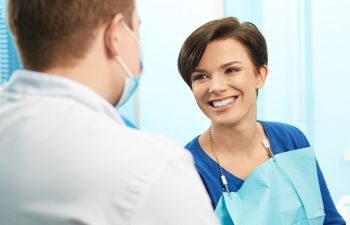 While aging is inevitable, the desire to turn back the hands of time and reclaim a more youthful face remains a common pursuit. From anti-aging products to plastic surgery, there are countless ways to address the unwanted signs of facial aging. But what if you didn't have to visit a plastic surgeon or dermatologist to look younger?
Many patients are surprised to learn how much the appearance of their teeth has on their overall facial appearance. Teeth that are yellow, chipped or even crooked can make you look much older than you really are. There are some simple, affordable and painless procedures in cosmetic dentistry that may take years off your appearance without a visit to the plastic surgeon's office.
With the latest advancements in cosmetic dentistry, a beautiful, confident and youthful smile is within reach. Cosmetic dentistry can include services such as professional teeth whitening, porcelain veneers, dental bonding and other easy treatments that enhance your smile aesthetics and correct the imperfections that have occurred over time.
There are a variety of reasons that cause people to hide their smile. Cosmetic dental services are designed to address teeth that are discolored, chipped, gapped, crooked, missized or otherwise unsightly
Let Dr. Wayne Suway Restore the Smile of Your Youth
Aging undoubtedly takes its toll on the body, and your teeth are not excluded. To bring back the brilliance and youth of your smile, a simple investment in cosmetic dentistry can be your answer. Dr. Wayne Suway delivers results that are functional, sustainable and natural looking. In addition, he pays special attention to your unique facial features and designs his cosmetic services to balance and highlight your overall facial beauty.
With today's advancements in cosmetic dentistry, there's no reason to endure a subpar smile. There's also no reason why you can't have a beautiful set of teeth as a grandparent just like you did during your college years. We offer solutions that meet your budget needs and time constraints. With advanced dental technology, we can complete your smile makeover faster and more comfortably than ever before.
Call Dr. Wayne Suway in Marietta today to learn more about the powerful anti-aging benefits of cosmetic dentistry.
Posted on behalf of Dr. Wayne G. Suway
1820 The Exchange SE, #600
Atlanta, GA 30339
Phone: (770) 953-1752
FAX: (770) 953-6470
Mon - Thu: 8:30 AM – 5:30 PM
Closed for lunch: 12:30 PM - 1:30 PM