The Consequences of Jawbone Loss After Missing Teeth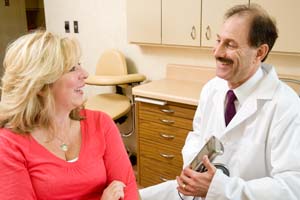 Although inconspicuous at first, one of the most detrimental effects of a missing tooth is bone loss. Just like the muscles in our body, our bone tissues also need proper stimulation and exercise to maintain their form and density. When it comes to the jawbone, the roots of our teeth are embedded in these bone tissues. Each time you chew or bite, you are essentially stimulating your jawbone and supporting its health. However, when a tooth is missing, the alveolar bone (the part that secures the teeth in the mouth) is no longer stimulated. In result, the bone will begin to deteriorate or resorb.
What's the big deal about jawbone loss? It can actually create more problems than you think, including those that pertain to your facial appearance and those that threaten your oral health and body health.
If you have missing teeth, you should know that dental implants are the only way to avoid the following consequences of jawbone loss:
Misalignment, drifting and loosening of remaining teeth
Collapsed facial profile (premature facial aging)
Limited lip support
Skin wrinkling around the mouth
Distortion of other facial features
TMJ problems, facial pain, and headaches
Difficulty speaking
Inadequate nutrition as a result of the inability to chew well
Sinus expansion
There are other factors that can cause jawbone loss, including advanced gum disease and trauma. However, missing teeth are most commonly the trigger. If you have already lost some of your jawbone density from missing teeth, rest assured that you may still qualify for dental implants. Dr. Wayne Suway offers excellence in bone grafting to help patients receive dental implants and avoid future bone loss. Call Dr. Suway today to learn more about restoring your smile with dental implants!
Posted on behalf of Dr. Wayne G. Suway
1820 The Exchange SE, #600
Atlanta, GA 30339
Phone: (770) 953-1752
FAX: (770) 953-6470
Mon - Thu: 8:30 AM – 5:30 PM
Closed for lunch: 12:30 PM - 1:30 PM