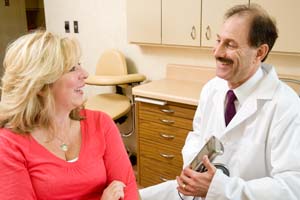 Cavities are not just something that affects children. Adults are just as likely, if not more, to develop cavities as children are. Every day wear and tear along with the natural aging process takes a toll on the human mouth. The threat of cavities is not something that people outgrow just because they become adults. Changes associated with aging can make cavities a problem for older adults. Wayne G. Suway, DDS, MAGD has been practicing dentistry for over 30 years and he has the knowledge and expertise for how to care for those with aging teeth.
Receding gums are one of the culprits behind adult cavities. Gum tissue that is swollen, damaged, and exposing the roots of the teeth can easily invite cavities to form. Receding gums that are left untreated can cause inflammation that can lead to tooth loss.
Dry mouth is also a common culprit of adult cavities. Dry mouth can drastically increase the risk of gum problems and tooth decay. Saliva helps to continuously clean the teeth and neutralize acids that eat away at the tooth enamel. An inadequate amount of saliva allows for bacteria to attach to the teeth and thrive, multiplying promptly and causing damage rapidly. While the production of saliva does not decrease with age, many medications that older adults take have the side effect of producing dry mouth.
Wayne G. Suway, DDS, MAGD has treated complex dental problems for many years and offers effective solutions for mature and aging adults. With is commitment to providing gentle, comprehensive care during every visit, Dr. Suway is well-qualified to help older adults treat and prevent cavities.
If you would like to schedule an appointment with Dr. Suway, please contact us today.
Posted on behalf of Dr. Wayne G. Suway
1820 The Exchange SE, #600
Atlanta, GA 30339
Phone: (770) 953-1752
FAX: (770) 953-6470
Mon - Thu: 8:30 AM – 5:30 PM
Closed for lunch: 12:30 PM - 1:30 PM