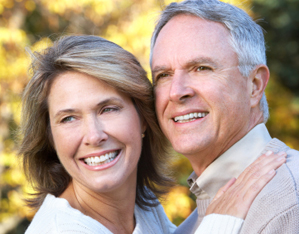 If you have made an investment in dentures, then you know how important it is to take proper care of them. Once you have gone through the process of having your mouth prepared and have been properly fitted for your dentures, you can understand the need and desire to keep them looking and feeling their best. Dr. Wayne Suway has been helping patients reconstruct their smiles with dentures for more than 30 years, and he understands that proper care of your dentures can benefit your mouth (and your wallet) for years to come.
Dentures should be handled with great care. For most people, dentures are an expensive investment that are not easily replaced. Simply folding a towel over your vanity can protect your dentures in case you accidentally drop them. Because dentures are made of plastic and metal, they can crack and shatter when dropped on a hard surface. Dentures must be brushed daily, just like natural teeth. Removing food and plaque from dentures keeps them clean, free of stains, and keeps them smelling fresh. A soft bristled brush is recommended so that it does not wear down the dentures surface. Dentures should also be cleaned regularly with a denture cleaner. Soaking the dentures in a cleaner specific to dentures can help keep them fresh — however, these cleaners cannot replace regular brushing. Having a routine set for caring for your dentures can make them last for years.
Dr. Wayne Suway is a leader in advanced denture care. When dentures are ill-fitting they can cause other oral problems, therefore it is imperative to keep regular dental appointments in order for your dentures and mouth to be cared for. Dr. Wayne Suway has worked with thousands of patients over his three-decade career, and in that time he has brought comfort, functionality, and beautiful results to his patients. Contact the office of Wayne G. Suway, DDS, MAGD for comprehensive care of your dentures.
Posted on behalf of Dr. Wayne G. Suway
1820 The Exchange SE, #600
Atlanta, GA 30339
Phone: (770) 953-1752
FAX: (770) 953-6470
Mon - Thu: 8:30 AM – 5:30 PM
Closed for lunch: 12:30 PM - 1:30 PM