Bone Loss Acceleration After Dentures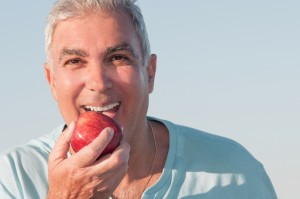 If you are missing teeth and considering your options, you have likely been educated on the significant advantages of choosing dental implants. One of the primary benefits to dental implants is that they provide an artificial tooth root. Your tooth root is essential to stimulate the bone surrounding and supporting your teeth. Without proper stimulation, your alveolar bone begins to deteriorate and reabsorb within your body, causing premature aging.
Dentures can replace your missing teeth, but they do not address your missing tooth root. While you may understand that dentures don't prevent bone loss, you may be surprised to know that they can actually accelerate this problem. Multiple studies have shown that denture wearers lose bone structure at a faster rate than those who choose not to replace their missing teeth at all. One such report was from a 25-year study in 1972 by Tallgren in Denmark, which revealed that bone loss is 10 times faster in the first year after the teeth are removed when a denture is placed over the ridge. Unfortunately, this bone loss continues to occur year after year.
Dentures can accelerate bone loss because they contribute to the wearing away of the ridges of bone they are placed on. Every time you bite down or clench your teeth, there is pressure placed on the ridge that causes the bone structure to reabsorb. The consequences are not only ill-fitting, uncomfortable dentures but also premature facial collapse over time. Bone loss after dentures can cause the lower portion of your face to sink in, which can make you look much older than you really are.
The only way to prevent bone loss after missing teeth is to choose dental implants. You may elect to have an implant-supported bridge or dentures, or a crown restoration placed on top of your implant. The process can be more lengthy and expensive, but it can preserve your overall facial appearance.
Posted on behalf of Dr. Wayne G. Suway
1820 The Exchange SE, #600
Atlanta, GA 30339
Phone: (770) 953-1752
FAX: (770) 953-6470
Mon - Thu: 8:30 AM – 5:30 PM
Closed for lunch: 12:30 PM - 1:30 PM