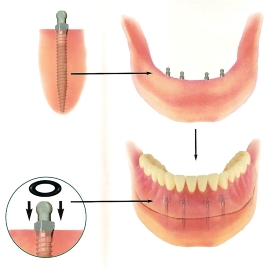 It is no secret that permanent teeth were created to be permanent. However, every single mouth inside every single person is different, and there are a variety of reasons while people choose to have dentures. Thankfully, today there are significant improvements to dentures for those with missing teeth. Advanced denture options can provide the confidence and function needed for a fully restored mouth. Wayne G. Suway, DDS, MAGD has been crafting custom dentures for over thirty years, and he uses his knowledge and expertise to meet the individual needs of all of his patients.
One of the greatest benefits of dentures is that people who have suffered from dental problems and issues for years are able to have a fresh start. Dentures provide patients with a new set of teeth that are natural looking, comfortable, and fully functioning.
Another benefit to dentures is that they are easy to maintain. Once patients get through the initial adjustment period where they visit the dentist regular to ensure an optimal fit, dentures do not require much maintenance. They must be cleaned, just as any teeth need to be, but they typically do not require any more time than brushing and occasionally soaking them in a special treatment solution.
Dentures are also custom made to be specific to the measurements of each patient's mouth. Because of this, they fit well and provide people with the freedom to eat, speak, and laugh without worry. There should be no pain or discomfort involved with dentures, therefore, all previous dental issues are overcome and resolved.
Dentures also provide patients with the self-confidence they have been lacking. Dentures can greatly enhance a person's appearance. A brighter, straighter, and healthier smile is the envy of everyone; dentures can provide those with missing teeth the radiant smile they have always wanted.
If you are considering dentures as a way to improve the function and appearance of your smile, contact Wayne G. Suway, DDS, MAGD in Vinings for a complementary consultation appointment.
Posted on behalf of Dr. Wayne G. Suway
1820 The Exchange SE, #600
Atlanta, GA 30339
Phone: (770) 953-1752
FAX: (770) 953-6470
Mon - Thu: 8:30 AM – 5:30 PM
Closed for lunch: 12:30 PM - 1:30 PM