Avoid These Denture Cream Pitfalls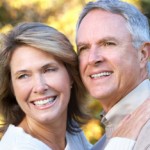 If you wear traditional dentures, your replacement teeth may only be as good as your denture adhesive cream. Dentures typically need an adhesive cream to give them a better level of stability and hold. Unfortunately, denture adhesive creams are known for being problematic. The only way to completely avoid the following denture cream pitfalls is to secure your dentures with dental implants instead.
Denture Adhesive Problems
Messy: There is really no way around it; denture creams are messy. They also tend to emit a strong odor, which further dampers the experience.
More Hassle: In order for your dentures adhesive to work, it needs to be applied to a clean denture. You cannot simply add new layers of your adhesive to old, existing layers. Not only will it not stick, but it can also allow bacteria to grow on your dentures. When placed back into your mouth, you put yourself at higher risk for gum disease and bad breath. Daily cleaning and careful adhesive application is an avoidable hassle if you opt for implant-supported dentures instead.
Health Risk: Many dentures creams contain zinc. Unfortunately, recent studies have linked zinc exposure to neuropathy, a nerve disorder that causes pain and numbness in the extremities (hands or feet). There are some denture cream brands that have gone zinc-free as a result.
Extra Cost: You may think you are saving money by avoiding the cost of dental implants to secure your dentures. However, the cost of a tube of denture cream can get quite pricey, especially when you may go through multiple tubes in a year.
No Guarantee: Even if you find a good zinc-free denture cream that you can tolerate, you will never have a 100% guarantee that your dentures won't slip or fall out of place when you are speaking or eating.
As stated above, the only real solution to solving your denture cream pitfalls is get a set of dental implants to permanently secure your prosthetic teeth. You won't need to get a full set of dental implants; only 2 to 4 implants can often stabilize a lower denture. If you want to rid yourself of your denture cream problems, please contact Dr. Wayne Suway. He is an experienced and talented dentist who specializes in top quality tooth replacement.
Posted on behalf of Dr. Wayne G. Suway
1820 The Exchange SE, #600
Atlanta, GA 30339
Phone: (770) 953-1752
FAX: (770) 953-6470
Mon - Thu: 8:30 AM – 5:30 PM
Closed for lunch: 12:30 PM - 1:30 PM