Are Dental Implants Safe for the Elderly?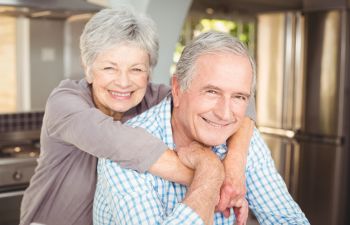 Dental implants are considered one of the best options for replacing a missing tooth. However, since it does require the surgical placement of a prosthetic product into the jawbone, it is understandable why patients may question the safety of dental implants when it comes to the aging population. The truth is, dental implants are remarkably safe – even for an elderly patient. Not only are dental implants safe for aging adults, but they can offer remarkable benefits towards their overall health and quality of life.
The Benefits of Implant Dentistry in Geriatrics
Although dental implants are not recommended for kids, there is no restrictions on being too old for them. When anchoring a full arch of missing teeth (denture), dental implants can improve speech, oral health and chewing function. Without dental implants, it is common for patients avoid fibrous fruits and vegetables and resort to a soft, high-carb diet. Therefore, dental implants can be critical for elderly patients, as a balanced diet and proper nutrition fosters optimal overall health during the late stages of life.
In addition to chewing ability, dental implants also ensure that the surrounding teeth don't migrate towards the empty space of a missing tooth or teeth. When teeth shift, this can create a bad (and uncomfortable) bite as well as make it more difficult to clean your teeth. Once again, this becomes even more important for the aging adult, who may already struggle with the dexterity and coordination required to brush and floss. Clean teeth and gums prevents gum disease, which can be a significant threat to whole body health as you get older.
The Safety and Precision of Modern Implant Dentistry
Dental implants have been safely used for over 30 years. While an oral surgery is required, it can be carried out with superior precision and accuracy using modern dental technology and imaging. In addition, the titanium material used to make a dental implant is biocompatible, which means it is readily accepted by the body with very low risk of complication.
It is always important to get the approval of a certified implant dentist before assuming dental implants are safe for an elderly patient. The same qualifications apply to an 80-year-old as they do a 30-year-old, which includes good overall health, adequate bone structure and not smoking. However, if your dentist has given you the go-ahead for dental implants, you can rest assured it is not only safe, but highly rewarding for an aging adult.
For more information about teeth replacement for the elderly, please contact Dr. Wayne Suway.
Posted on behalf of Dr. Wayne G. Suway
1820 The Exchange SE, #600
Atlanta, GA 30339
Phone: (770) 953-1752
FAX: (770) 953-6470
Mon - Thu: 8:30 AM – 5:30 PM
Closed for lunch: 12:30 PM - 1:30 PM